As part of our summer safety series, we have a guest blog from Alexandra T. Greenhill to ensure your kids stay safe near the water. Alexandra is a physician and a mother of three, as well as the co-founder of Careteam, an integrated patient-centered platform for proactive team-based care.
10 #mustknow safety rules for kids near water
I am pretty passionate about helping families become aware of water safety. As a physician mom who did emergency medicine for years, one of the worst moments in my career was having to tell parents that we could not do anything to revive their toddler who drowned in a bathtub filled with draining water while dad went to get a fresh towel. So, save a life – spend 5 minutes reading this and share it with people you care about.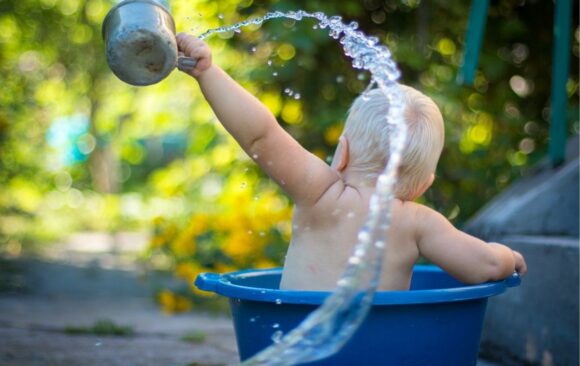 5 key facts about drownings
Did you know that:
– Drowning is #1 cause of accidental death in kids 1 to 4 and #2 for kids 4 to 12.
– Kids can drown in 1 inch (3.52cm) of water – in a bathtub or even in a puddle.
– Contrary to common belief and most movies, drowning happens very quietly.
– Most drownings occur inside houses and in residential pools.
– 9 out of 10 times when a child drowned, they were supervised, but the adult was distracted for a bit.

10 key things to consider:
The following 10 simple things should make your kids safer this summer. I challenge you to review these with your partner and your nanny/sitter – it may be surprising how many of these you don't quite agree on. People base their approach on personal experiences and growing up in a different age and/or place may bring either stronger or too relaxed attitudes towards this topic. It's important to come to an agreement between adults so that kids get one set of rules only. So, here are 10 key things to consider:
Learn CPR and get your nanny/babysitter to do so too.
Never leave a child unattended near water and do not trust a child's life to another child. Review what your kids know about water safety and about swimming with the adult you leave in charge.
Teach children to always ask permission to go near or into water and review water safety tips (Many sites offer tools, booklets, videos etc.)
Get your kids to get swimming AND water safety lessons – Research shows they both combine to make the greatest difference in preventing drownings. I remember watching in amazement when Aquaventures (amazing swimming school here in Vancouver) did their water safety practices with my kids and after first landing in water with their flotation devices on, most of the four year-olds in the class stayed face DOWN and did not know what to do!
Repeat these rules with your kids every two weeks – Kids forget, and for them three months ago is forever!
River, lake, sea and ocean side safety – Too many people forget that most places in Canada are actually close to open bodies of water and a stroll on the beach or riverside can be dangerous. Unexpected currents, steep and sudden drop-offs of riverside into the river, or unusually high-water levels because of heavy rains or late spring run-off are common occurrences even if they don't reach levels currently seen in Calgary and Toronto. Most people also don't realize that if a river is running quickly, about 15 ¼ centimeters (or six inches) of water can sweep a person downstream, and a little over six-tenths of a meter (or two feet) of water can carry away most vehicles.
Swimming safety – pool, river, lake, sea and ocean – Have one adult in a group designated as the one to watch the kids, and ideally rotate this person every 20 minutes to keep them fresh and attentive. Why designate someone? Because often in a group everyone thinks someone else is paying attention, and more often than not, no one actually is.  Why rotate? You have seen lifeguards do it – and yes, it's been shown to make a difference.
Boating safety – A life jacket is a must, and supervision at all times is too – see method above. And again – at least one adult per child needs to stay off alcohol as 40% of accidents are related to alcohol intake.
Remember protection from the sun and proper hydration.
Water in the home –
Empty all tubs, buckets, containers and wading pools immediately after use. Store them upside down and out of children's reach.
If you have a toddler in the house, keep toilet lids closed and use toilet seat locks to prevent drowning. It's also a good idea to keep doors to bathrooms and laundry rooms closed.
Be safe and have fun this summer!
Terms and Conditions
All content provided on this blog is for informational purposes only. The owner of this blog makes no representations as to the accuracy or completeness of any information on this site or found by following any link on this site. The owner will not be liable for any errors or omissions in this information nor for the availability of this information. The owner will not be liable for any losses, injuries, or damages from the display or use of this information. This policy is subject to change at anytime.