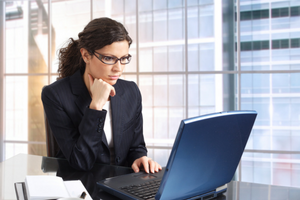 Do your employees remember who they've listed as their emergency contact at work? Here's an actual story from the spouse of one of ePACT's very own team members. Of course, names have been changed, but this really happened!
Matthew started his new job as a systems engineer 5 years ago. On his first day he was required by the company's HR department to fill out a number of paper forms, which included emergency contact information, medical details, and other personal data. These forms were submitted to the HR department and kept on file on paper or in an online database.
Last fall, Matthew developed a heart condition and had an episode while at work. Although Matthew had told his boss that he had heart issues prior to this event, no one updated HR.  When the emergency occurred and the ambulance was called, the HR department dug out the forms that he completed years earlier and contacted his emergency contact to let them know what had happened. Unfortunately, the last contact on Matthew's form was his girlfriend. However, Matthew had since married someone else – and his wife was not contacted! Luckily one of Matthew's colleagues knew someone who was a good friend with his wife. The colleague was able to contact this friend, who then reached Matthew's wife so she could call his employer for an update and get to the hospital. Thankfully, Matthew was OK, but the time it took for his wife to learn about the incident and reach the hospital was significantly delayed. This experience highlights some real misconceptions about your ability to contact your employees' emergency contacts:
1.Emergency support network information is kept up to date at all times
Matthew's experience shows that this is certainly not true. His company had no mechanism for validating that his contact information was still accurate, and over the years, Matthew didn't inform his company about new emergency contacts. Luckily things worked out for Matthew, but imagine what could have happened if this wasn't the case. People's lives change, and often information on file at work does not keep up.
2. Emergency contacts know that they are listed in your employee's support network
Another common misconception is that the emergency contacts designated by your employees know they are listed as such. This is often not the case as your employees write down a name and phone number without actually informing this person that they will be contacted in an emergency situation. Make sure your employees take a moment to notify their emergency contacts – and encourage them to do this beyond the workplace to include their child's school, daycare and sports team, or their local gym and community organization.
Here's who your employees' may want to consider when setting up their emergency support network:
Household members/spouse
Neighbors
Parents
Siblings
Good friends
3. Emergency contacts know how to support your team members in an emergency
In the event of an emergency, does the support network of your employee really know how to support them? Do they know which medications they are taking and how frequently? Any recent injuries? The names and numbers of their relatives and out of area contacts? Or that they are on antibiotics for a bacterial infection? These things may seem trivial, but in a real emergency, medical and contact information can have a huge impact on treatment and response.
Why is it important to have an emergency support network?
Although we don't like to think about it, emergencies both big and small can happen. Whether it's an individual injury or a large scale earthquake, you want to ensure each and every one of your team members has a loved one to help them through difficult times. Having accurate, up to date contact information for your team and their emergency contacts will ensure that you are able to reunite them with their family and friends quickly, so they receive the right support in an emergency situation. [Tweet "How can my company ensure they reach the right emergency contacts? Read here"]
How can my company ensure they reach the right emergency contacts?
ePACT is a single online solution for all your emergency management needs. With ePACT, you can send an invite to your entire team so each employee can securely share their emergency information with you. Using the innovative system, you'll have a way to communicate directly with your employee's emergency contacts, while your employees can push updates to information to you at any time.
Beyond this, companies can easily improve safety across the board with ePACT by:
Having anytime, anywhere access to critical medical and contact details with the ePACT app (available for Apple, Android and Blackberry products) – even without internet access!
Having a direct way to communicate with emergency contacts, who have received an invite from your employee to accept this role
Sending regular reminders to employees via ePACT to verify that their emergency information is up to date
Having two way communications with employees, so you know if they are safe or need support in a crisis
Providing a way for employees to communicate with their own families in a natural disaster
Do your employees have a comprehensive network in place to provide the support they need in a crisis? Provide the best for your team with ePACT:
---
Terms and Conditions
All content provided on this blog is for informational purposes only. The owner of this blog makes no representations as to the accuracy or completeness of any information on this site or found by following any link on this site. The owner will not be liable for any errors or omissions in this information nor for the availability of this information. The owner will not be liable for any losses, injuries, or damages from the display or use of this information.
This policy is subject to change at anytime.