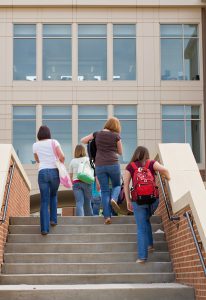 Elementary schools emphasize emergency planning with comfort kits and emergency information forms, so it is often easy to forget that secondary school students are still at risk should an emergency ever occur. Because of this, it is important to prepare your secondary school student for emergencies. Follow these tips from Bernadette Woit, Schools Emergency Management Consultant, to equip your secondary school student with the knowledge and supplies they need to deal with an emergency.
Discuss expectations: Ensure your child knows what to do if an emergency ever occurs while they are at school. The most important thing to discuss is that they should remain at the school until the administrators or community emergency services deem it safe to leave
Prepare an emergency kit: Elementary school students are not the only ones who need an emergency comfort kit. Encourage your child to put together a kit with non-perishable food, a solar blanket, poncho, personal items and hygiene supplies to carry them through an emergency. Keeping their comfort kit in their backpack is ideal, however, they can also store it in their locker. Ensure that your child knows to replenish the kit if they use any of the items, such as the snack foods.
Remember the basics: Remind your child that the basics they learned in elementary school still stand. For example, they should follow the instructions 'Drop, Cover and Hold On' that they were taught in elementary school to stay safe during an earthquake.
Allow them to be responsible: While preparing for an emergency with your high school student, it's important to respect their age. Show your child that you trust them by encouraging them to assemble their own emergency kit or asking them to create an emergency plan for the family with you. At the same time, be careful that you don't form adult expectations for your child. Remind them that they can always turn to an adult during an emergency if they need to, and do not try to have them care for younger siblings if a crisis hits. Balance is most definitely the key here.
Terms and Conditions
All content provided on this blog is for informational purposes only. The owner of this blog makes no representations as to the accuracy or completeness of any information on this site or found by following any link on this site. The owner will not be liable for any errors or omissions in this information nor for the availability of this information. The owner will not be liable for any losses, injuries, or damages from the display or use of this information.
This policy is subject to change at anytime.