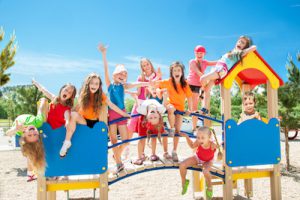 Hot days filled with kayaking, hiking, swimming, camp fires, new friends, and a sense of independence – it's no wonder why young ones have a blast at summer camps! But before you sign your children up for a day or overnight camp, it's important to go over safety with them. You should also be aware of the camp's policies and procedures on the topic, so you can breathe easy knowing your child is in the best of hands.
Summer camps begin next week, so use these tips to make the experience a great one for your child:
Packing: The basics are the easy part – clothes, running shoes, sunglasses and a hat. But it's also important to make sure to pack important safety items!
You want to know that your child not only knows what to do in an emergency, but has the tools to handle them as well.
Include a small first aid kit in your child's bag for smaller emergencies, and also ensure they have emergency snacks and water, a solar blanket, extra toiletries, a flashlight, and an extra supply of any necessary medications.
Sun safety: It's summer, which means sun (hopefully)! Everyone loves a good day in the sunshine, but too much exposure can be painful and lead to heat exhaustion or sun stroke . The number one thing to remember is to pack the proper SPF sunscreen with your child, and teach them how to apply it properly – and at least once every two hours. The sun's rays are the hottest between 10am-4pm, so be sure to notify your kids to always seek shelter and take breaks out of the sun often. They need to remember to hydrate as well!
Food allergies: It can be extremely worrying for parents to be away from their children, and is especially true for parents of children with severe food allergies. There are some steps you can take to ensure that your child is well taken care of and avoids any allergic reactions to food while they are away. Firstly, it's absolutely crucial that you let the camp know about your child's allergies well before camp begins, and it's okay to be redundant. Ensure that you not only verbalize your concerns, but follow it up in a reminder email or phone call and of course, make a note of it on the emergency form. The camp needs to be aware of any and all food allergies, as well as the proper treatment to handle those allergies should something go wrong. If your child has an Epi-Pen, the camp management not only needs to know where the pen is located, but also how and where to administer it. Kids with extremely severe reactions should have an allergy or anaphylaxis action plan created by their parents and doctors, which should be passed on with the child, as well as sent in to the camp. In the allergy plan, you'll want to include the triggers of the allergy, how to avoid them, the signs of a reaction, and treatment.
Your child's needs: Everyone is different, and each individual may require a unique set of assistance or support when away from home. It is absolutely crucial for the camp to have your child's medical information, dietary restrictions, conditions impacting participation, and contact details for your child's emergency contacts. Using a service like ePACT can truly be the solution you need to ensure that these details are up-to-date and easily accessible by the camp staff. If the food services team needs information on your child's food allergies, or they take a fall and their medical history needs to be reviewed by the first-aid team, this information can easily be accessed via web or mobile at anytime, and from anywhere. Furthermore, the use of ePACT means that the camp is equipped with communication tools to reach you and your child's support network in the event of an emergency.
Health and wellness: With so many children running around in a confined space, illnesses and the spread of infectious diseases may be too easy to come by. Pack a bottle of hand sanitizer with your child and explain to them the importance of killing germs through the course of the day. If your child is sick or battling a cold, you might want to rethink sending them to camp in the first place to prevent it from being spread around to other children.
Work with the camp: Whether you're child has never had a cold in his or her life, or you're the parent to the child who has to deal with a number of medical issues, make sure you take the time to speak with someone at the camp and get your questions answered. Some of the questions you might want to ask are: What kind of safety or medical training does the staff receive? How will my child be supported in an emergency? Does the camp have an emergency plan in place, and what are the details? How has the camp handled emergencies in the past? How often do camp leaders ensure that the kids have a break and cool down? There's nothing wrong with asking questions, especially when it comes to the health and safety of your child. As a parent, you deserve those answers, so don't be shy!
We hope your kids have a great time at summer camp, and hope that you have a relaxing week while they are away. Thanks for reading!
—————
ePACT is the single emergency record and support network for families, and the emergency preparedness and response standard for organizations. By leveraging the power of online networking, ePACT brings organizations and families together to share critical information, plan collectively and communicate before, during and after any emergency. Sign up today to better connect and protect your family and organization through any crisis!
Terms and Conditions
All content provided on this blog is for informational purposes only. The owner of this blog makes no representations as to the accuracy or completeness of any information on this site or found by following any link on this site. The owner will not be liable for any errors or omissions in this information nor for the availability of this information. The owner will not be liable for any losses, injuries, or damages from the display or use of this information.
This policy is subject to change at anytime.