This is the time of year when families and friends get together to celebrate the holidays, and it usually centers around sharing great food and delicious treats. This, in turn, means a lot more time spent around the kitchen, and that's where the importance of safety comes in! To help you out, we've put together a few kitchen safety checklists that you can use, whatever your plans are this holiday season.
Basic Kitchen Safety Tips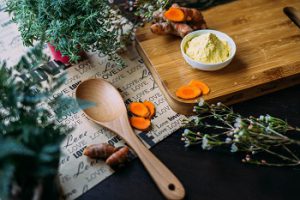 The kitchen is the place we create food magic, but it's also the place we have to be the most aware of equipment and environmental hazards around us. Whether you're making brunch for the family or cooking a feast, here are some basic safety tips to keep in mind:
Make sure all wires, cords and plugs are in good working order, aren't frayed, and that all plugs are 3-pronged (grounded connection). Replace any appliances that are broken or damaged, as they can be a personal or fire hazard.
Always wash your hands before starting to cook, and after you handle raw meat or poultry. This helps to avoid the spread of bacteria and foodborne illnesses, which can put a damper on your meal plans!
Turn pot handles away from the front of the stove to avoid bumping into them by accident and knocking things over, and to keep little wandering hands from grabbing them too.
Store knives in a wooden block or in a drawer, and while you're working, keep them away from the edges of counters to avoid knocking into them or children getting their hands on them. Here are some additional knife safety tips to consider as well!
Don't wear loose clothing, tie long hair back, and remove long or dangling jewelry to avoid accidental fires, or catching on kitchen equipment as you work.
Don't leave pots and pans unattended on the stove while cooking, and always turn burners off once you are done with something. If you are using the oven, it's a good idea to stay in the kitchen while it works, but if you need to leave, don't go too far and always set a timer so that food doesn't overcook (and potentially catch fire)
Wipe up spills as soon as they happen, as they can be a slip hazard for anyone moving around or coming into the kitchen unawares. If you have to wash the floor and it doesn't dry right away, leave a chair or sign over the wet area so that others know to avoid it until it's dry and safe.
Always keep a fire extinguisher close to hand in the kitchen – a dry chemical extinguisher is your best bet in the kitchen as it works to put out a variety of fires; alternatively, there are kitchen-specific fire extinguishers too (wet chemical) that are designed to put out fires started by oils or fats)
Kitchen Safety for Kids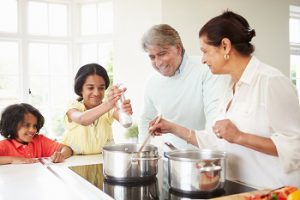 The holidays are a great time to cook with family and it's common for your little ones to want to help out. Set expectations for children so they understand that safety is key in the kitchen, and make sure they are always properly supervised. Here are some tips to keep in mind as you make cooking a family affair:
Don't allow your little ones to operate the stove by themselves. Help them by turning the stove on, and make sure they don't reach across any hot surfaces or pots/pans. Here are 7 Stove Top Safety Tips for you to read together.
Make sure pets, phones, TVs, and other distractions stay out of the kitchen so that everyone can focus on what they are doing, and avoid rushing around while cooking or baking so that accidents are less likely to happen.
Don't leave kids unsupervised at any point, especially around knives or food cooking on the stove or in the oven.
Use oven mitts to take food out of the oven or microwave, to move pots and pans around on the stove, or to lift hot lids. Always keep potholders nearby so that they can be easily and quickly used, but remember to keep these and other cloth items away from the stove top itself when not in use.
Encourage kids to close cupboard or pantry doors as they are finished using them – you can avoid items falling out while you're cooking, and also prevent trapped finger or head injuries.
Teach your kids to check the oven before turning it on – making sure there are no toys, old food, or other unwanted items in there before the heat comes on can prevent burning or fire hazards.
Show older children where the fire extinguisher is and how to use it properly with the P.A.S.S. method
Kitchen Safety for the Holidays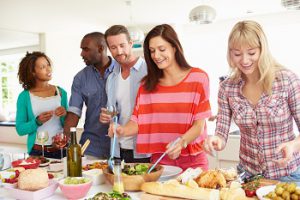 When there's family and friends around the house during the holidays, it's very easy for the kitchen to become the most convenient gathering place (it's where all the deliciousness is after all!). Don't let all that activity be a distraction to you while you're cooking, and keep these tips in mind as you go:
You're probably going to be simmering, baking, roasting, or broiling food so keep an eye on food and check it regularly to ensure that nothing is overcooking. Just like every day cooking, always use a timer to prevent food from getting burned or spilling over.
During your busiest cooking times, it might be a good idea to keep pets and children out of the kitchen – you can stay focused on the cooking tasks at hand and won't have to add child supervision to your list of things to do. Have a chat with your kids before things get going so they understand that the kitchen is going to be busy and less safe for them to be in for the short-term.
Clear up any clutter and perform safety checks before you start cooking – these quick, simple tasks can save you a headache in the long run!
Cooking for family and friends is a heavy task, and even with the best intentions, it can be easy to forget to turn an appliance off, or even the oven! Before you go to bed or leave the house, always check to make sure that everything is turned off and unplugged (in the case of small appliances like blenders or toasters).
The kitchen is the number one cause for home fires over the holidays, so make sure you're doing your part to stay alert and prevent them from happening.
Overall kitchen safety is important, and it might require some adjustment for the holiday season so you are extra safe and prepared to deal with an unexpected incidents. No matter what, we hope you have a safe, enjoyable, delicious rest of the year!
Terms and Conditions
All content provided on this blog is for informational purposes only. The owner of this blog makes no representations as to the accuracy or completeness of any information on this site or found by following any link on this site. The owner will not be liable for any errors or omissions in this information nor for the availability of this information. The owner will not be liable for any losses, injuries, or damages from the display or use of this information. This policy is subject to change at anytime.