As we come to the end of March, we've got some exciting updates for you. Here's what's New In ePACT!
Archiving – Beta
We often hear that organizations who run youth programs have to store their participant information on paper forms for one, three, or even five+ years, and then shred them at the end of the retention period. Talk about a tedious process!
We're excited to introduce you to our new Archiving feature, designed to help your organization manage health and emergency information easily, for as long as you need to. Archiving works in conjunction with your existing ePACT account, allowing you to archive forms and store them securely in ePACT's cloud-based system, no matter the length of time required.
Learn more about our archiving feature here.
Group Administrator Permissions
Organization administrators – we heard your feedback to provide your group administrators with more functionality in the system! Group administrators now have the following permissions:
Additional editing rights, so group administrators can update the name, email address, or category for the members in their group
The ability to change a member to 'Using Paper Forms' status or back to 'Using ePACT'
Quick tasks at the top of their dashboard to easily view incomplete or completed records, as well as undelivered messages
This is the first step towards us moving towards enhanced and customized permissions for different levels of administrators.
My Requests Page
We've made improvements to our family accounts, so families are automatically directed to their outstanding invites when they log in. This makes it even faster and easier for families to find their outstanding requests, ensuring our organizations always have the information they need from their families.

Managing Administrators
The Administrators Tab in your ePACT account has gotten an overhaul as well! Shortcuts at the top of the dashboard make it easy for you to view new administrators and send them invites, or view outstanding administrators and send them reminders.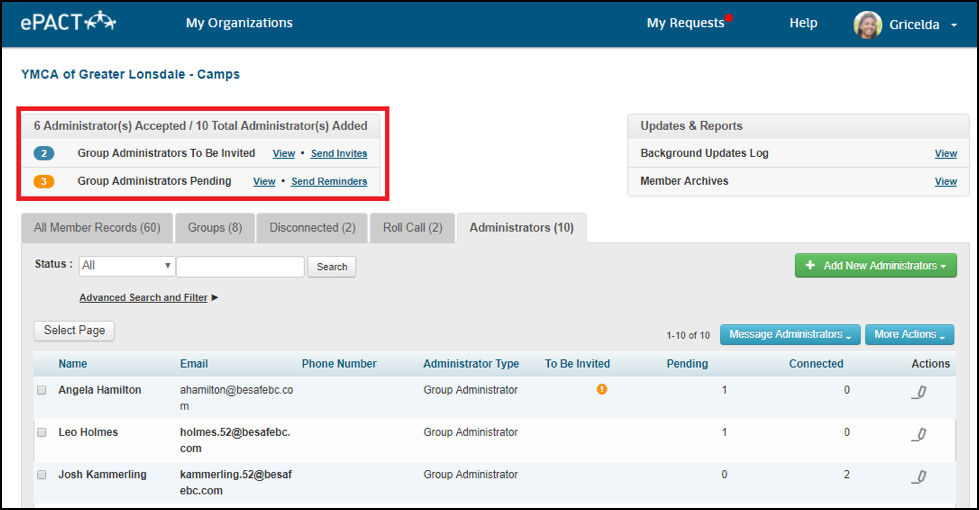 Coming Soon
We're excited to announce that we are adding the ability to collect the 'Relationship to Member' for all Emergency Contacts in a family's support network. Stay tuned!