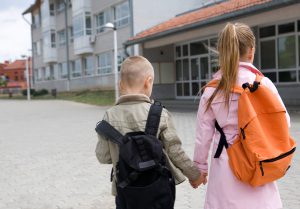 Each year schools ask parents to prepare an individual comfort kit for their child, as a well-stocked kit can help students cope during an emergency. But how can one bag supply everything your child needs to feel safe in an emergency if you're unable to be there with them? Lucky for you Bernadette Woit, Schools Emergency Management Consultant, has put together some tips for you to prepare the ultimate comfort kit to help console your child during a crisis.
The bag – Use a medium-sized zip-lock freezer bag to hold all the contents of the comfort kit. Ensure you replace the bag if it is damaged, and that the bag is labeled with your child's name.
A family photo – Include a family photo to help comfort your child during an emergency, while providing them with a sense of security.
Other supplies – In addition to the family photo, include the following in the bag:

Two peanut-free granola or fruit bars, or other non-perishable, high energy snacks
Two band-aids (ones with cartoon characters are always a hit)
Facial tissues
A small personal item, such as a deck of cards or a small toy (optional)
Chewing gum – sugar free (optional)
A solar blanket and poncho

Make two! – Assemble two comfort kids for each child at the beginning of the school year. The first kit will be passed on to the school, while the second kit can be placed in the child's backpack. This way, the child will always be prepared if they are at a friend's house, at daycare, or at an after school activity.
With a complete comfort kit, you can rest well knowing that your child will be better prepared, both physically and emotionally, to deal with any emergency at school.
Terms and Conditions
All content provided on this blog is for informational purposes only. The owner of this blog makes no representations as to the accuracy or completeness of any information on this site or found by following any link on this site. The owner will not be liable for any errors or omissions in this information nor for the availability of this information. The owner will not be liable for any losses, injuries, or damages from the display or use of this information.
This policy is subject to change at anytime.