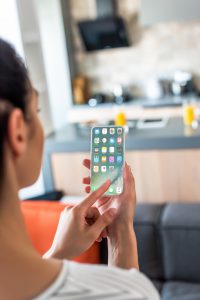 A best-in-class emergency preparedness practice is to assign an out of area contact (someone who resides outside your Province or State) to connect with in a major disaster. However, most families don't understand the importance of this contact or the role they can play in an emergency.
Emily Dicken, Co-Chair of the Great British Columbia ShakeOut Organizing Committee, explains "Out of area contacts are critical following an earthquake or other major disaster, as local phone services may be limited. As part of your emergency plan it is important to have someone outside your area to act as a central contact for your family. If they are outside your region, there is a strong possibility that they will not be impacted by the same event and can support your family by helping everyone remain connected."
In most disasters, the internet has become the primary communication tool to connect with friends and family, or access the latest news regarding the crisis. However, in some cases, if power is down, or there has been wide spread impacts to cell towers, cable lines and other web access points, long distance calling can be an excellent option to connect and communicate. Therefore, an assigned out of area contact can be crucial during a disaster, as they may be the one person you and your extended family and friends are able to contact by phone.
You and your extended family and friends should all agree on who your shared out of area contact is when you build your emergency plans. Make sure to pick someone that your family trusts, who handles stress well and has been known to do well under pressure. You will need to rely on this individual for critical information and support, so you need this person to be clear headed throughout the ordeal. They should also be someone who is generally accessible, so try to choose an individual who has a set schedule, or that does not travel a great deal.
This individual will also need agree to play this important role, and understand their responsibilities:
As soon as they become aware of the crisis, they should not try and call anyone impacted themselves, but should keep their phone line free for those to call-in;
Keep a record of who called, when and where the call came from (the person's specific location) and any news or messages each person wants to pass along to the rest of the group;
Keep track of any key news updates related to the disaster such as areas to avoid due to high risks, places to access food and shelter, or points for evacuation or medical care and support;
Your out of area contact will become a central information source, providing you with updates in your area if other forms of communication and news (television or radio) are impacted. They can relay messages about the location and status of your family members and friends until you are able to connect with them directly, and they can be a calming influence, providing words of support and caring during a stressful and challenging time.
Terms and Conditions
All content provided on this blog is for informational purposes only. The owner of this blog makes no representations as to the accuracy or completeness of any information on this site or found by following any link on this site. The owner will not be liable for any errors or omissions in this information nor for the availability of this information. The owner will not be liable for any losses, injuries, or damages from the display or use of this information.
This policy is subject to change at anytime.