While we enjoy great food and all the coziness of the season, it's also a time of year to keep safety in mind. The winter months and the holiday celebrations mean that we're cooking, stringing up lights, and travelling to see family, so we've put together 12 holiday safety tips to keep you and your family safe throughout the next few weeks.
Day 1: Don't Forget the Lights!
You probably have lights on your tree, around the house, or throughout your yard. Enjoy their sparkling, twinkling wonder throughout the holidays but remember to turn them off whenever you go to bed or leave the house.
Day 2: It's All About the Tree
If you're buying a real tree, make sure it's fresh before you take it home (you can tell it's fresh if the needles are hard to pull off), and be sure to water it daily once it's inside your home. With any tree, fresh or artificial, keep it away from heating sources, including fireplaces and candles.
Day 3: It's Beginning to Look a Lot Like Christmas!
As you're decorating your home, keep indoor and outdoor decorations separate and used in their respective areas, check any lightbulbs before you put them up, and make sure cords are in good condition. And if you're using a ladder to hang decorations, make sure it's stable and that you have always maintain three points of contact.
Day 4: Giving Safely
The holidays are the best gift giving opportunity, so as you're buying for the kids in your family, be sure to check what age the toys are appropriate for – smaller toys with removable parts or batteries can be a choking hazard for younger children and babies.
Day 5: Eating Carefully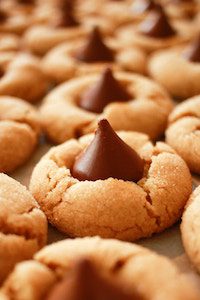 We eat more snack foods, candy, and confectionary during the holidays than any other time of the year, so for family members with allergies, it's important to be especially vigilant and pay attention to the ingredients of food they are offered. If you suffer from food allergies and are unsure of ingredients, don't hesitate to politely decline; if you're hosting family, be sure to ask about allergies ahead of time so you can prepare.
Day 6: Holiday Cooking
We spend a lot of time in the kitchen throughout the holidays, whether we're cooking up a family feast or baking with our little ones. Never leave your cooking unattended, avoid distractions while in the kitchen, keep flammable items away from the stove top, and, if you're cooking with the oven, always use a timer to avoid burning food.
Day 7: Stay Warm
It's not surprising that this celebratory time of the year is also the coldest, and with the colder temperatures responsible for health issues, you should stay dry, and dress warmly in several layers. This is especially important for infants and older adults, as they have a harder time regulating their body temperature overall, and can be at higher risk for cold exposure than the rest of us.
Day 8: Travel Safely
Whether you're driving across the city or the state, or hopping on a plane to a vacation destination, help to make sure you and your family are safe. If you're driving, make sure everyone is wearing their seatbelt, that your vehicle emergency kit is up-to-date, and that no one drinks and drives. If you're jetting off anywhere, make sure you know where you're going, pack a travel emergency kit with your belongings, and that you store your important documents in a hotel safe when you arrive.
Day 9: Check Your Detectors
Make sure your smoke and carbon monoxide detectors are working properly by regularly testing the batteries, and replacing them if necessary. It's also a good idea to give the fire extinguishers in your home a quick check (and a shake if they're the solid material kind), and refresh your knowledge of the P.A.S.S. method in case of a fire.
Day 10: Make Planning Part of Your Gathering
As your family gets together this season, use it as an opportunity to discuss and make emergency plans. Whether it's for a power outage, home fire, or natural disaster, when everyone is on the same page, it makes things much less stressful in the event of any emergency. Write everything down and make sure everyone has a copy to refer to regularly as part of their preparedness efforts.
Day 11: Be Prepared for Winter Weather
We always know when Santa is going to arrive, but it's hard to predict a winter storm that brings snow or high winds. Stay informed with weather alerts (there are lots of great smartphone apps available) and make sure your emergency kits are up-to-date (we've got a great offer with Canadian Red Cross for 20% off supplies).
Day 12: Stay Vigilant
Unfortunately, there are a few people who like to take advantage of the gifts and gatherings we all enjoy during the holidays. Leave lights and certain appliances on timers to make it look like someone's home when you're not; and ask a neighbour to park in or near your driveway, and pick up your mail while you're on vacation. Be sure to dispose of your gift boxes carefully so you're not drawing attention to the new items that are now in your home – theft overall tends to rise over November and December.
We hope you have a fun, happy, and safe holiday season ahead, and a wonderful New Year!
Terms and Conditions
All content provided on this blog is for informational purposes only. The owner of this blog makes no representations as to the accuracy or completeness of any information on this site or found by following any link on this site. The owner will not be liable for any errors or omissions in this information nor for the availability of this information. The owner will not be liable for any losses, injuries, or damages from the display or use of this information. This policy is subject to change at anytime.