As we all know, New Year's Resolutions are a challenge. In fact, an estimated 80% of resolutions fail by February – it's no wonder many of us avoid them all together!
Have you ever considered making emergency preparedness your new years resolution instead of the typical fitness or weight loss? Emergency preparedness is something that can benefit your entire family, and better yet, doesn't require you to give anything up! While it takes some dedicated time and money, the long-term benefits of being prepared for any of life's emergencies are countless.
We understand that getting started on emergency preparedness can be a little overwhelming, so we've put together three ways that you can make this a resolution with no sweat!
Create Your Plan(s)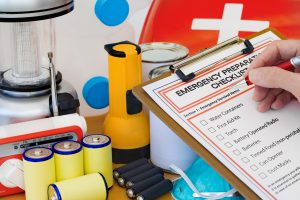 Emergencies come in all forms, whether it's a fall on the soccer pitch, a natural disaster, or a fire in the home. Having a plan for any of these situations is important to ensuring your safety and that of your family. Here are some things to consider as you start planning:
Where you live and the natural disasters that could occur in your area
How you would evacuate your home in the event of a fire
Suitable meeting places if you must leave your home
How you would communicate with family members or other contacts following an emergency
With work, school, extracurricular activities, and just plain errands to run, it's more than likely that your family may be apart from one another in the event of a disaster. Using a tool like ePACT means you can easily store and update important contact information online, and communicate with loved ones in the event of an unexpected situation.
Update or Start Your Emergency Kit
If you've already started on your emergency kit, January is a good time to check expiry dates on bottled water, canned goods, granola bars, and batteries, and replace those that have passed. If you have food for your pet, make sure that both dry and canned food is still safe to consume.
If you are ready to start your kit, you can either purchase pre-made ones from reputable vendors (we always recommend our partners at F.A.S.T as they have lots of options and give ePACT members a 15% discount!), or make a trip to your local supply store to put one together from scratch. You can build your kit at your own pace, and spread the cost out at the same time (we recommend adding one new item to your kit each time you go to the grocery store).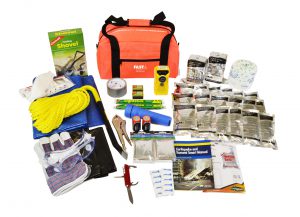 Key items for your emergency kit (make sure you have enough supplies to last a minimum of three days):
Water (one gallon per person per day)
Food (non-perishable)
Flashlight and Batteries
First Aid Kit
Blankets
Can Opener
Whistle
From there, you can customize the kit for the different members of your household:
Prescription medications
Comfort items
Infant formula and diapers
Pet supplies, including a crate
Store everything in either backpacks or plastic containers with handles so that they are easy to transport if you need to evacuate your home or office.
Prepare Your Home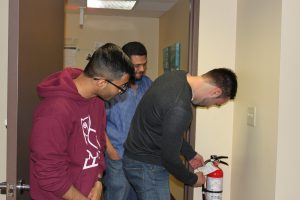 Whether you are preparing for every day emergencies, or more serious ones, there are many ways that you can prepare your home. Some general preparedness ideas that are easy to implement are:
Test your smoke alarms and replace the batteries if they're a year old
Check fire extinguishers for expiry dates, replace if necessary, and make sure you know how to use them
Make sure regularly-used cables are intact and safely plugged in to power bars with surge protectors
Make sure you know where to find your water and gas shut-off valves, and how to turn them off if needed
If you're in an area prone to earthquakes, secure freestanding furniture with wall straps, use putty or non-slip pads for decorative items, and add shelf tips to keep books in place
These three things can put you right on track for success with your New Year's Resolution, while keeping preparedness and safety top of mind. Emergency preparedness might not be the coolest thing to do, but we promise it will pay off for your entire family!
Be sure to let us know how your plans and preparations come along by connecting with us on Facebook or Twitter.