This post has been updated from the original.
It's time to celebrate Nutrition Month! Nutrition is an integral part of a healthy lifestyle for all members of the family, including children of all ages. Whether you're providing fuel for a young athlete before a hockey game or soccer practice, or managing food allergies at camp, nutrition is a key piece in ensuring children are safe, healthy and happy.
Nutrition Tips for Young Athletes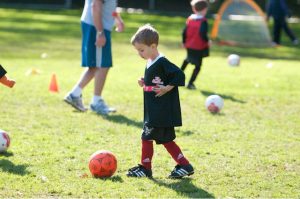 Children need the right nutrition while playing sports or just plain playing!  Although these tips are good for any time, they will especially help you prepare your kids before games or practice. Follow these simple guidelines to help your little champions shine:
Water: Hydration is key for kids who participate in sports. Drinking water two or three hours before playing sports helps kids stay hydrated while they play. Let your children know that they shouldn't wait until they feel thirsty to drink water, as this likely means they are already dehydrated. If you are a coach or team manager, remind your athletes to take a break to hydrate every 30 minutes, and encourage them to continue drinking water afterward to replace sweat loss.
Watch What You Eat: Avoid high-sugar before activity, which could cause your child's blood sugar to spike and then drop, resulting in a sluggish feeling while playing. Also avoid fatty foods as they are slow to digest, creating a feeling of tiredness, which isn't ideal for an athlete facing practice or a game.
Carbs for Energy: Carbohydrates play a crucial role in providing children with the energy they need. Rice, milk, cereal, fruit and pasta are great options, and should be eaten approximately two hours before a practice or game.
Proteins for Recovery: Protein helps muscles recovery after activity, and stay strong over time. A high protein snack after physical activity is highly recommended as well. Take advantage of convenient, high protein snacks like nuts, greek yogurt, chocolate milk and cheese.
Don't Skip Breakfast: We all know those early morning practices are tough, but don't forget breakfast beforehand. If your athlete doesn't have time for a full breakfast, try to fit in a cereal bar and juice box on the way to practice. If you do have time for a proper breakfast, focus on good carbs (whole-wheat bread or cereal) and protein (eggs or yogurt).
Get Involved: As a coach or team manager, you can also promote healthy eating with snacks during games, longer practices, or road trips. Ask parents to rotate bringing a healthy snack for the entire team, including things like oranges, bananas and cheese.
Managing Allergies: Parents
Managing your child's allergies while they are at school or away for camp can be a stressful experience. Luckily, people are more aware of allergies than ever before, with plenty of resources and tools available to support you! Here are some extra tips to support you and your child when dealing with allergies:
Learn about the organization's food allergy management: Many camps, daycares and schools have proactive measures to accommodate those with allergies. It's not uncommon to see schools that are nut-free zones, or camps that offer gluten-free options. Connect with the team at your organizations to share details on your child's allergy and determine what their management plan is, while being sure to dive into the details (for example, are they a nut-free zone or only a peanut-free zone).
Double-check epinephrine auto-injectors: Before the start of the school year, sports season or camp, check your stock of EpiPens. You'll want to ensure you have enough to supply to each of your child's organizations, and that their expiry is far enough away to last the entire season or session. Don't forget that these need to be in original packaging and labelled with your child's name as well!
Keep safe snacks around: The easiest choices for safe snacks are whole foods like fruits and vegetables as there are no additives, or hidden ingredients. However, keeping up to date on allergen-free products can help add variety to your child's diet without putting them at risk for a reaction. Here's how to Stock an Allergen Free Pantry that's healthy and happy for everyone.
Managing Allergies: Organizations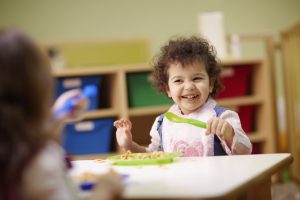 If you manage a camp or youth program, or are a coach or safety manager for a sports association, consider these tips to support your participants with allergies and dietary requirements:
Collect the right information: It's impossible to prepare for an allergy you know nothing about! Be sure to collect the specific foods the child is allergic to, the severity of the allergy, the required treatment, and whether or not epinephrine treatment should be administered. If you aren't sure how, consider using ePACT's allergy module, designed in consultation with our medical advisors. Our allergy module lets parents quickly enter and share the detailed information that your organization needs. As well, you can access this info when you need it on our Admin App – even without an internet connection.
Check beforehand: Be sure to check for allergies in your participants before the season or camp session starts. That way, you can alert staff so they are ready if the child is inadvertently exposed. Using ePACT allows you to run quick allergy and dietary reports to easily have this data on hand.
Ask for supplies of food: In addition to EpiPens, it's important for you to have the right food on hand for your participant. If you are unsure what food is the best fit for your camper or athlete, be sure to double check with the family. They'll be happy to point you in the right direction, or even supply the food themselves. You should also be sure that your stock of emergency food takes food allergies into account. Ask parents for allergy-safe food for their child to stock in your large emergency kit, or for them to send it in the comfort kit at the beginning of the year.
Healthy Eating for Seniors
For older members of your household, eating well can help keep up energy levels, improve mental alertness, and keep immune systems working properly. It's important for seniors to maintain a balanced diet with supplements to ensure that they are getting the complete nutrition they need to stay healthy:
Enjoy Fresh Produce: Eating fruit, leafy vegetables, fish and nuts can improve focus and decrease the risk of Alzheimer's disease.
Strong Bones: Just as getting enough calcium is important for babies and young children, it's the same for seniors as it helps to prevent bone fractures and osteoporosis. Milk, yogurt, and cheese are great sources of calcium, but if you don't eat dairy products, you can get just as much from broccoli, tofu, and almonds.
Vary Your Protein: Don't just rely on red meat for your protein – eating fish, beans, eggs, nuts, and seeds are great alternatives that can help with improving your mood, and relieving anxiety and depression symptoms too.
Eat More Fibre: As we age, our digestion becomes less efficient, so it's important to find good sources of fibre. Foods such as whole grains, beans, nuts, fruit and vegetables can help to increase our daily intake of fibre and keep our digestive systems working properly.
If you have any other questions about proper nutrition for children with food allergies, connect with us on Facebook or Twitter.
Terms and Conditions
All content provided on this blog is for informational purposes only. The owner of this blog makes no representations as to the accuracy or completeness of any information on this site or found by following any link on this site. The owner will not be liable for any errors or omissions in this information nor for the availability of this information. The owner will not be liable for any losses, injuries, or damages from the display or use of this information.
This policy is subject to change at anytime.