Like CPR (cardiopulmonary resuscitation), First Aid is one of those skills that's valuable on any occasion, in any walk of life. Whether you're at work, out for a walk, or enjoying dinner in your favourite restaurant, medical emergencies can happen any time – after all, it's why they're called emergencies. This is a pretty compelling reason to learn such a valuable skill, but we thought we'd put together some additional reasons why you need to know First Aid.
You can help someone you know
Unfortunately, medical emergencies don't always happen to strangers – in fact, 88% of cardiac arrests happen at home, and often to people with no history of heart disease or other risk factors (Source: American Heart Association, 2015). If a family member or friend visiting your home experiences a heart attack, or other medical issue, you can put your training to the test by helping them until emergency medical services arrive.
It does more than help save lives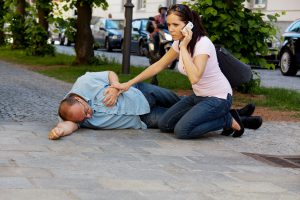 Even if an injury isn't life threatening, it can still take time to recover from, and by providing immediate first aid treatment, you can potentially reduce a person's recovery time, which can have many positive impacts.
By having the right training to help someone else in an emergency, or even knowing what to do if you hurt yourself, you'll be in a much better position to remain calm and remember the steps you need to take to provide care – in fact, many people who've had to implement their First Aid or CPR training have said that they went into auto-pilot mode, simply responding with their training and education. When you're confident in your actions, you can be more effective and in control in a stressful situation.
A quick response can make a huge difference
Regardless of the medical issue at hand, a quick response is often the most important element in ensuring a patient's survival. These are some of the most common first aid injuries (Source: Safetec of America), and how a fast response from a trained individual can help:
Cuts or scrapes: If there's bleeding, your first step is to stop the flow with firm pressure as soon as possible – if the cut is significant, you can prevent dangerous blood loss before medical services arrive or you can get the patient to a hospital for stitches.
Burns: You should immediately hold the affected area under cool running water, or use a cold, wet towel (for less severe burns only) until the burning or pain stops – by acting quickly, you can potentially minimize blistering or scarring, and for more serious burns, getting someone medical attention as soon as possible can be life-saving.
Broken bones: If someone fractures or breaks a bone, you should immobilize the affected area and avoid unnecessary manipulation – protecting broken bones can prevent them from impacting arteries or nerves, resulting in a more severe injury.
Depending on the injury, a quick response can lead to improved survival of the patient. For example, according to 2014 data, nearly 45% of out-of-hospital cardiac arrest victims survived when bystander CPR was administered (Source: American Heart Association).
You can increase patient comfort
Regardless of the severity of an injury, it can often be distressing to the patient, especially if you're treating a child. Whether it's a cut knee or a banged elbow, knowing how to act and even applying simple treatment like a band aid or ice pack, can relieve discomfort and put the patient on track to feeling better. Your confidence and calmness can also relieve your patient's stress and anxiety which is beneficial for everyone!
It's easy to get trained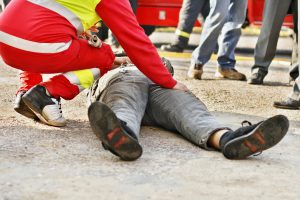 Depending on where you live, there are a few organizations that provide First Aid training, often alongside CPR and AED training too. In Canada, St. John Ambulance has been ensuring the health, safety and quality of life for over 125 years, and offers the most comprehensive, state-of-the-art first aid and CPR training programs for the workplace, the home, and the community. In the United States, the American Red Cross has First Aid courses across the country (550 locations to be exact), as well as online classes to make it that much easier for people to learn these vital new skills.
And don't forget that the both Red Cross organizations have a selection of amazing smartphone apps that you can use to stay up-to-date with your training or provide a refresher whenever you need it – here's the Canadian Red Cross First Aid App, and here's the American Red Cross First Aid App.
There's a shortage of people with skills
Across the world, there's a shortage of people with First Aid skills, which is surprising considering how easy it is to find training:
In the UK, more than nine in ten adults (95%) would not be able to save lives in first aid emergencies. Other stats are equally as concerning –seven out of ten adults lack the knowledge and confidence to act if someone collapsed and was unresponsive and breathing; nearly seven in ten people lack the knowledge and confidence to act if someone was bleeding heavily; and eight in ten adults said they lack the knowledge and confidence to act if a baby was choking (Source: British Heart Foundation).
Australia has the world's lowest rate of training, with less than 5% of people trained in how to handle an emergency situation (Source: ABC News Australia).
In 2012, while nearly 40% of Canadians say they have been in an emergency situation where they have had to perform first aid, only 18% were certified. And although 68% said that they can recognize the signs of a life-threatening health emergency, fewer than half believed they had the skills to provide life-saving first aid (Source: Canadian Red Cross).
First aid is personal and, as we mentioned earlier, we're more likely to use first aid skills to save the life of a loved one than anyone else (check out this powerful story of a man who saved his wife's life after she collapsed, unresponsive and not breathing), so why not take the time to learn a skill that will stick with you for life, and potentially save a life? We know we would!
If you're interested in other training, here are 5 Reasons Why You Should Learn CPR.
Terms and Conditions
All content provided on this blog is for informational purposes only. The owner of this blog makes no representations as to the accuracy or completeness of any information on this site or found by following any link on this site. The owner will not be liable for any errors or omissions in this information nor for the availability of this information. The owner will not be liable for any losses, injuries, or damages from the display or use of this information. This policy is subject to change at anytime.