It's that time of year where the worst of winter is behind us and we take every opportunity to throw open the windows and doors at home. There's nothing better than the smell of fresh spring air to clear the cobwebs and get you in the mood for spring cleaning!
While you're at it, consider the easy ways you can incorporate safety into your spring cleaning. For example, you can remove any safety or fire hazards in and around your home, and check things like fire extinguishers, smoke alarms, and carbon monoxide detectors. Here's a complete list to help you out:
Check Smoke and Carbon Monoxide Detectors
Remember that you need to test your detectors once a month:
Smoke detectors have a 10-year life span, but if it doesn't make a noise when you test it at any time, you should replace it entirely
Carbon Monoxide detectors only have a five-year life span, and require the sensors to be replaced or recalibrated at that time, even if the detector beeps when you push the test button.
Batteries in smoke and carbon monoxide detectors also need to be replaced once per year, so your spring cleaning routine is the perfect reminder for this every year.
Check Electrical Wires and Extension Cords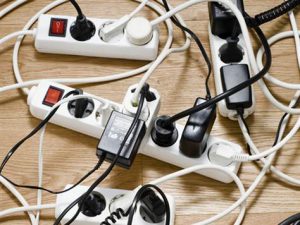 Regularly used household items like lamps, computer cables, or smartphone have power cords that can become worn over time.
Check for frayed or damaged cords and replace as needed
For those of us with lots of electronics, make sure you're not overloading extension cords or power bars – even if there's space for four plugs, it doesn't mean it is safe to do so. Either rearrange your plugs to ensure that they don't exceed the maximum current or invest in additional power bars
Make sure cords are not tucked under carpet and that your family members don't trip over them
Check and Clean Filters
Clogged filters can be a fire hazard, but can also mean that your appliances won't work properly. It's important to check them all for the following:
Check and clean the filters above your stove. If you can remove them entirely, you can soak off any build-up using soap and warm water
Pull your fridge out from the wall (gently to avoid straining the power cables!) and make sure that the coils are cleaned and the floor around the unit is vacuumed and washed
If you have a dryer in your home, make sure that the ducts are cleaned and vacuumed, and that you clear the lint trap inside the machine too
If you use appliances such as humidifiers or air purifiers, clear your filters or replace them if necessary to prevent dust and animal fur build-up
Indoor Housekeeping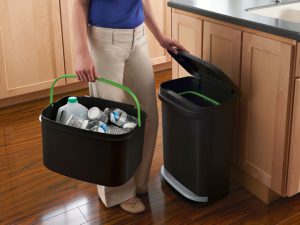 To make sure that spring cleaning is effective in your home for the year ahead, keep the following general tips in mind:
Remove clutter from stairs, walkways, and landings so that you have a clear exit in the event of an emergency – especially those boxes of items you just cleared out!
If you have a fireplace, book an appointment to get your chimney cleaned. Creosote collects in the chimney if you've been using the fireplace over the winter, and can cause chimney fires if not cleared properly
Properly dispose of any expired or unused medications in your home – you can reach out to your pharmacy to find out where you can drop these off (don't throw them away or flush them down the toilet!)
Here are some additional tips for efficient, health-friendly spring cleaning.
In the Yard
Spring cleaning doesn't stop indoors! Be sure to maintain the outside of your home with these ideas:
Make sure your home address numbers are up, clean, and visible from the street so that if emergency services needs to reach you, they can find you quickly and easily
Check your barbecue for leaves and other debris that might have accumulated over the winter months, and make sure it's positioned well away from the house, in a well-ventilated area, ready for use
If you're turning on outside pipes or sprinklers, be cautious of those that may have frozen in the colder weather and check to make sure nothing is leaking as water starts to flow
Make sure your outdoor electrical outlets are free from animal nests or other debris, and that wiring is undamaged and intact
Here are some additional tips for outdoor spring cleaning so you can keep your yard safe and fun for everyone!
Terms and Conditions
All content provided on this blog is for informational purposes only. The owner of this blog makes no representations as to the accuracy or completeness of any information on this site or found by following any link on this site. The owner will not be liable for any errors or omissions in this information nor for the availability of this information. The owner will not be liable for any losses, injuries, or damages from the display or use of this information. This policy is subject to change at anytime.