With summer ahead of us, we all love to spend more time outside, enjoying the weather and the fun activities that come with it. If you're lucky enough to live near community parks or recreation centres, these are the perfect places to run off some steam and spend some much-needed time outside with family and friends.
Many recreational spaces include playgrounds for kids to run, jump, climb, and play with their friends. Most are designed with safety in mind but it's always important for adults and caregivers to properly supervise and ensure that children always remain as safe as possible in the playground. Here are some ways that you can keep the playground entertaining and safe by checking equipment for potential hazards and following safety guidelines.
Make Sure Clothing is Appropriate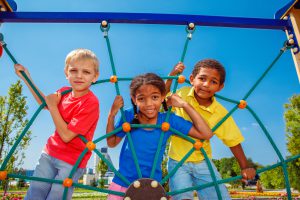 Before you set out for the playground make sure that your little ones are dressed appropriately [Resource: Caring For Kids]:
Avoid loose clothing that can get caught on equipment, and leave anything with strings (jackets, hoodies) at home to remove choking hazards
If you're riding bicycles, scooters or skateboards to the playground, take helmets off before starting to play as the straps can easily get caught on, or stuck in gaps in, equipment
Ensure that everyone is wearing shoes during play time and that they are properly secured
Check the Playground Itself
As you arrive at the playground, take a moment to do a quick walk around of the play area and check the following [Resource: Canada Safety Council]:
Make sure that the playground has a soft surface (most common are wood chips, shredded rubber, or sand) that is at least 12 inches deep – this will help absorb the impact of any falls.
Check the play surface for any debris, standing water, or dangerous materials like broken glass, that can cause children to fall and cause injury.
Feel metal slides before use as the sun can heat them up and cause burns to exposed skin.
Ensure that children are playing in an area that is suitable for their age – younger children shouldn't play on equipment designed for older kids, as the proportions will be different, and can lead to injury.
There should be strong handrails and barriers to help prevent falls as children play, and all equipment should be firmly anchored in the ground. There should also be sufficient space around all equipment to allow for falls and minimize injury from other equipment if a child takes a spill.
Check that wooden equipment isn't splintered or weak in any areas, and that there are no sharp edges on metal or plastic equipment
If you see anything that is cause for concern or is a serious safety hazard, reach out to whoever is responsible for maintaining the playground (city, town, county parks department, school etc.) so that they can fix the problem as soon as possible.
Review Playground Safety Rules with Your Children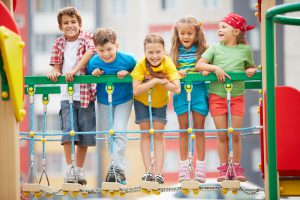 If everyone is on the same page when it comes to safety, injuries, falls, and other accidents can be better avoided. Here are some general playground rules to follow, no matter where your little ones are playing or how old they are:
Wait your turn on any playground equipment
Slide down feet first
Always hold on to railings and climb steps slowly
Watch for other children, and keep away from moving swings and the bottom of slides
Don't push or roughhouse while using playground equipment
When jumping from equipment, make sure there are no other children in the way and always land on both feet with knees slightly bent
Remove hooded sweatshirts or clothing with strings, and leave helmets with your bikes or skateboards before you play
In addition, especially on warm, sunny days, make sure your kids are wearing sunscreen and that they drink water regularly.
Always Supervise
No matter how old or competent your child is on the playground, it's extremely important to always supervise their play time. This way, if anything happens, you can attend to injuries or falls quickly.
For children under five, stand right next to them as they climb, swing, or play on equipment above the ground [Reference: Parachute Canada]
For children over five, make sure that they use equipment safely and properly. It's quite common for kids to play incorrectly on equipment (including climbing on the outside of the structure) which can lead to falls and injury
Make sure you can see all play areas clearly to help easily supervise as kids play on all equipment [Resource: Safe Kids Worldwide]
If you see damaged equipment, unsafe behaviour, or debris in the playing area, do your part to help – report maintenance needs, and encourage children to avoid the area; make sure that all children are aware of the playground safety rules; and, during a break from watching your kids play, pick up trash or other items that can impede fun
Understand the differences between the different equipment and how safety guidelines adjust accordingly – swings, slides, and climbing equipment should all be treated very differently (and some equipment, like monkey bars, simply aren't safe for any playground, no matter how careful everyone is). For a great, comprehensive list of these safety guidelines (and all the other playground safety tips), visit Kids Health – Playground Safety.
We know how important it is for your children to have safe playtime, so we hope these tips help you and your little ones get the most out of their local playground. If you have any additional tips or suggestions you might like to share, connect with us on Twitter or Facebook!
Terms and Conditions
All content provided on this blog is for informational purposes only. The owner of this blog makes no representations as to the accuracy or completeness of any information on this site or found by following any link on this site. The owner will not be liable for any errors or omissions in this information nor for the availability of this information. The owner will not be liable for any losses, injuries, or damages from the display or use of this information. This policy is subject to change at anytime.