For many, simply thinking about an emergency or disaster of any kind is enough to send us running for the hills – OK perhaps not that bad, but it's still a pretty uncomfortable topic to think about, let alone actively prepare for. As a result, many people never get around to preparing themselves, their homes, or their families for potential crises.
Communities and municipalities aren't all that different from us as individuals and families. They often struggle with a few things when it comes to emergency preparedness initiatives – it's hard to assign budget to a scenario that could (and perhaps might not) happen, it's hard to know every single emergency or disaster to prepare for, especially with no prior experience, and it's also tough, generally, to get residents to get engaged too.
However, preparing for life's emergencies, whether it's a road closure, or an earthquake, is important for everyone, from the municipality or community level right down to individual residents and households. We've gathered a few tips that any community can use to help get residents informed, engaged, and personally prepared to improve community resilience overall.
Prepare and Share Your Emergency Plan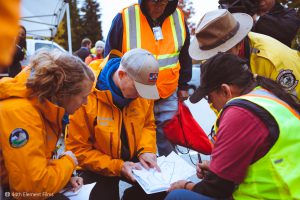 Just like a household, a community should have an emergency plan that outlines any emergency or disaster scenario that could impact the community. Emergency Management Offices can identify the various risks that are unique to the region, or the community itself, and use that as a starting point for the plan – make sure that newly identified risks or hazards are regularly updated too!
Then make this plan easily accessible to all residents, in the many ways that they choose to consume information – your community website might be the immediate answer here, and you can also share updates and links through social media networks. You could include a few copies at the local library or information center too, and it might be a good idea to give residents an option to get a printed version if they prefer it.
Create a Resource Center
As with the emergency plan, providing residents with access to information can provide reassurance that their community is ready to respond to whatever crisis might occur. It might also serve as inspiration or useful information to help them start to personally prepare as well.
A resource center can include everything from educational or instructional videos and blog articles, to helpful contact information for community departments (e.g. poison control centres, animal welfare agencies, or emergency shelters), and evacuation plans for each area of the community.
Hold Practice Drills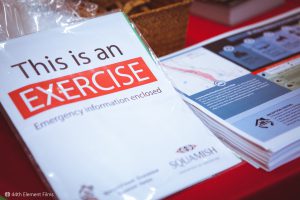 In addition to keeping information in a community plan up-to-date regularly, it's important to hold practice drills for any scenario that might impact a community, and this is where it's helpful to know the particular risks of your region. Whether your community is at risk for flooding, wildfires, or earthquakes, creating evacuation plans and drills that are specific to those scenarios can help residents understand what to expect should a crisis occur. As with any emergency plan, practice helps to keep residents calm in a real emergency, and means they know what to do and where to go when it's most important.
Check out how the District of Squamish and Squamish Nation launched their new alert system with a practice drill during Shakeout Month in 2016.
Have the Right Information
Communication is key, and without the right contact information, you might find that your ability to reach your residents is compromised. Collect the right contact information for each resident, whether it's a phone number or email address (or both!) so that you know they'll receive information no matter what.
You might also want to collect additional information for:
Residents who may require assistance in an emergency or evacuation
Residents who have unique or specialized skills that can be utilized in a crisis, such as First Aid and CPR training
Residents that might want to volunteer during an emergency 
Communicate Regularly with Residents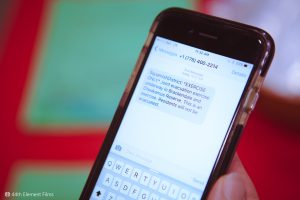 Whether your community is in a region that experiences high numbers of emergencies or not, regular communication with residents provides them with important information and helps get them used to hearing from you.
Sharing preparedness tips and resources, directing them to your resource centre (see point above), and making community announcements can get residents involved in your communications process before they need to use it in a real emergency (Hint: ePACT can help with this!).
Of course, for an impending emergency or one in progress, communication keeps residents up to date and informed so they know what to expect, and can prepare themselves and their homes for sheltering in place or evacuation. You can also update them on what Emergency Management Teams and first responders are doing too, so residents know they're always being supported.
The more that a community can do to prepare its residents, the more effectively emergency management services and first responders can direct their resources and assist when it's needed the most. If you would like to learn more about how ePACT supports communities, check out our short, introductory video, or set up a free demo to see ePACT in action.
Terms and Conditions
All content provided on this blog is for informational purposes only. The owner of this blog makes no representations as to the accuracy or completeness of any information on this site or found by following any link on this site. The owner will not be liable for any errors or omissions in this information nor for the availability of this information. The owner will not be liable for any losses, injuries, or damages from the display or use of this information. This policy is subject to change at anytime.