Summer months mean family time and fun in the sun. But we shouldn't forget that natural disasters can strike at any time!
Certain types of disasters, like hurricanes and wildfires, are much more common in the summer months, so it's important to make sure that your family is ready for these events. Keep reading to learn how you and your family can best prepare for (and even prevent) these disasters.
Emergency Kits
Emergency kits are an important piece of all family emergency plans, as they can help you survive until help comes. First responders will be very busy during or after a natural disaster, so they may not be available right away to assist you. This is why it's crucial that your family's kit has the right items! Here's our basic guide to creating an emergency kit for every need to help you get started, with ideas for adding extra items to an existing kit too.
Wildfires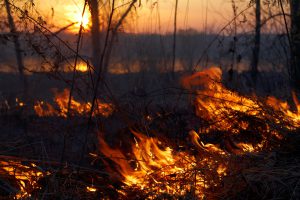 Did you know that up to 90% of wildfires in the US are caused by humans?
Last year, California was hit with three major fires that burned through most of September, destroying over 250,000 acres of land. And this May, Fort McMurray, Canada suffered a heartbreaking wildfire reminding us why it's so important for everyone to take steps for wildfire prevention as part of preparedness. Start with these easy strategies for prevention:
Camping: Never leave a camp fire unattended, and be sure to extinguish it completely before going to sleep or leaving the site.
Landscaping: If you have trees in close proximity to your home, make sure that no branches are touching the house, garage or other structure. Lawn maintenance is also important, so always keep your grass cut at a maximum of 4 inches, and make sure it is hydrated.
Power equipment: Each year, several fires are sparked by powered equipment, such as trimmers and lawn mowers. Use powered equipment early in the morning or at night when temperatures are down, and don't forget that lawn mowers should never be used on dry vegetation.
Cigarettes: Be sure to respect no-smoking signs in parks to refrain from starting a fire in particularly vulnerable areas. When discarding cigarettes, always use ashtrays and avoid throwing a lighted cigarette out of the window of a moving car.
If your community is impacted by a wildfire, be sure to follow these tips:
If your area is advised to evacuate, do so immediately! Having an emergency plan with a designated meeting area and evacuation route ahead of time will be a huge help.
If you're in the forest and see a large fire, move in the opposite direction of the fire and the wind. Try to call 9-1-1 as soon as you are safe.
If you're ever caught in a fire, protect your lungs by dropping to the ground – the air closest to the ground will be the cleanest. If possible, wet a piece of cloth and apply to your nose and mouth for additional protection.
Once you have the 'ok' from officials to return home, check the outside of your home, for any signs of structural damage, including the roof and deck.
When returning home with pets, be very careful of their time and exposure outside as hot spots or hidden embers can burn their paws or affect their lungs.
Once inside, inspect your food products. Any food or water that has been exposed to heat, smoke or soot should be discarded.
Hurricanes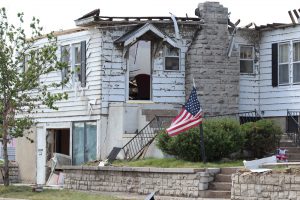 First of all, you may be wondering what exactly a hurricane is. A hurricane is a storm that has sustained winds of over 74 mph. Unique to these natural disasters is the "eye", which is found in the center of the wind formation, surrounded by intense rain and wind. Hurricane season in the Atlantic generally runs from June 1st until November 30th, but can actually form at any time under the right conditions.
Unlike some other disasters, hurricanes begin slowly as tropical storms are tracked as they grow. Both a hurricane watch or hurricane warning provide incredibly valuable time to further prepare and seek shelter if needed.
A hurricane watch, means a hurricane is possible within the next 48 hours, and is a sign to 'be on guard'. Be sure to:
Bring in any objects that can be picked up by the wind, such as toys, tools and furniture. Secure windows and glass doors with storm shutters or wooden boards.
Check that your car has a full tank of gas.
Ensure your emergency kits are well stocked.
Stay tuned for weather updates in case a hurricane watch has escalated to a hurricane warning, or if an evacuation is recommended in your area.
A hurricane warning is more critical, as it means a hurricane is expected within 36 hours. In this case:
Evacuate if advised to do so. Otherwise, stay indoors and away from windows and glass.
Move inland or to a secure building if you are outdoors or in a mobile home.
Fill up your bath tub and clean containers with drinkable water.
Turn off all appliances at home, including your gas, water, and electricity to prevent fires.
For general hurricane preparedness, remember that falling trees and branches are a major concern. Try your best to trim and remove damaged trees to prevent damage to your home or your family! And if you live in an area often affected by hurricanes,  consider investing in hurricane shutters to protect your windows as well.
We hope that these tips help you prepare for wildfires and hurricanes this summer. We promise that investing a few hours of your time will be well worth it!
If you have any questions about summer preparedness or emergencies in general, please be sure to connect with us on Twitter or Facebook.
Terms and Conditions
All content provided on this blog is for informational purposes only. The owner of this blog makes no representations as to the accuracy or completeness of any information on this site or found by following any link on this site. The owner will not be liable for any errors or omissions in this information nor for the availability of this information. The owner will not be liable for any losses, injuries, or damages from the display or use of this information.
This policy is subject to change at anytime.