Having an emergency kit is a critical part of any type of emergency preparedness plan. Whether you're looking to build a kit for your home, your sports team, work or camp, here's a quick outline of kit essentials.
Must-Haves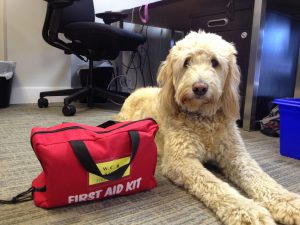 A few basic items should be included in all emergency kits.
Flashlights (don't forget the extra batteries)
First aid kit, including medications
Matches (waterproof if possible) or a fire-making kit
72 hour supply of water (the rule of thumb is one gallon of water per person, per day)
A supply of non-perishable food that will also last 72 hours (with a can opener if needed)
Space blankets
Whistle
Dust masks
Tools to turn off utilities (e.g. wrench or pliers)
Hand crank cell phone chargers and radios
Cash
Tailor your Kit for your Specific Needs
Be sure to consider the needs of each of your family members when compiling your family kit. For babies, don't forget to include special food and diapers. For older children, consider packing comfort items or toys. If you have a family member on medication or that needs a medical appliance, be sure to have a sufficient stock for at least 72 hours (and make sure they aren't expired)! Finally, if you a pet or livestock, be sure to account for them with your supplies. This includes:
Pet food and treats
Extra water
Feeding dishes
Bedding
A collar and leash
Litter boxes for cats or garbage bags for dogs
A photo to identify your pet
Kits for Sport Teams
Packing an emergency kit for a sports team might require a few special items for specific athletes. ePACT records are a great way to check for any particular needs! Do a quick search to see who has allergies or other medical conditions that might require specific items and then try to include them in the kit. To be on the safe side, consider adding only allergy-friendly foods (e.g. nut-free granola bars.). As well, as many sports teams play outdoors, consider extra blankets and hygiene items, like hand sanitizer, extra water, and anti-bacterial soap.
Kits for Camps
Camps and youth programs usually have the ability to store extra supplies on site. This means that you can include more comfort and hygiene products:
Toothbrushes and toothpaste
Sleeping bags
Paper cups and plates, and plastic utensils
Candles and matches (or tungsten lanterns)
Small cooking stoves
Board games, puzzles, books, and crayons.
Sunscreen
Extra food and water (like gluten-free snacks)
Kits at Work
Encourage your employees to keep mini emergency kits at their desk. This should include a change of clothes, comfortable walking shoes, food required for dietary needs, and any specific medication or supplies they need (e.g. allergy relief medication).
Kits are Important!
We hope our tips can help you build out your own emergency kit. But if you're short on time, pre-made emergency kits can be the solution. Be sure to take advantage of ePACT's partnership with Canadian Red Cross for special offers!
If you have any other questions about your emergency kit, you can connect with us on Facebook or Twitter.
Terms and Conditions
All content provided on this blog is for informational purposes only. The owner of this blog makes no representations as to the accuracy or completeness of any information on this site or found by following any link on this site. The owner will not be liable for any errors or omissions in this information nor for the availability of this information. The owner will not be liable for any losses, injuries, or damages from the display or use of this information.
This policy is subject to change at anytime.