As summer appears on the horizon, the first things we all think about are flip flops, sunscreen, camping, and beach towels. It's also an important season to think about safety around the house too – even though the weather is much nicer, there are a few things to be aware of when it comes to summer home safety!
Going on Vacation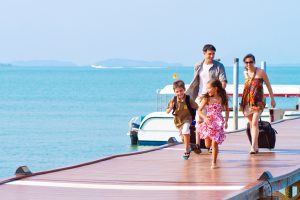 Whether you're away for a long weekend, a couple of weeks, or longer, take these steps to make sure your home looks occupied while you're away (burglars tend to target homes that are obviously empty).
Don't forget to lock all windows and doors throughout the house, and set an alarm if you have one
Hold your mail and newspaper delivery while you're away, or ask neighbours to collect your mail regularly throughout the week (every other day is usually enough) – you can pick it up when you get home
Invest in timers to turn your lights on (you can include your television or radio too) at certain times in the day – evenings are more realistic as it simulates your family returning home from school or work
If you have a neighbour you're close to, ask them to park outside your house or in your driveway while you're out of town. You can also ask them to keep an eye on your house too!
Alternatively, you could ask someone to house sit – this is the easiest way to keep your house occupied while you're on vacation! Close friends or family members can make sure your house is looked after in your absence, while providing a constant presence to deter unwanted attention. You can check out some other great tips on how to protect your home here.
Staying Cool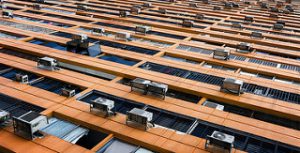 The warmer weather means there are occasions where we need to keep cool using air conditioning units and fans. Before you use either of these, it's important to make sure they're in working order to avoid injury and fire hazards – for AC units (especially those built into your home), we recommend getting them professionally serviced to avoid unnecessary injuries.
Portable Air Conditioning Units
Check that power cables are in good condition and that plugs are securely inserted into the wall, and, if the unit is new to your home, make sure that your home circuit can provide it with enough power safely
Avoid placing the unit in or near particularly dusty or dirty rooms as this can clog filters, which can lead to mechanical or electrical issues (and potentially become a fire hazard)
Check that filters are clean and clear of dust and other debris (like lint or pet fur), and that any water collection bins are clean and empty before turning the machine on (these should each be regularly cleaned and emptied to keep your machine working properly)
Free Standing or Desk Fans
If your fan has been in storage throughout the winter, make sure it hasn't rusted or become damaged in any way before turning it on
Make sure that power cables are in good condition (if not, don't hesitate to recycle and replace)
Ensure that fan blades are clean by removing the front cage around the blades (always turn the power off before taking anything apart!) and wiping them with a damp cloth. Make sure the cage is properly secured in place before turning the power back on.
Keep fans clear of other items like clothing or items that can get caught in the blades, and make sure the fan also has plenty of room to operate
Fact: In 2006, 33,500 injuries involving air conditioning units, fans, heat pumps, etc. were reported to emergency rooms.
By The Pool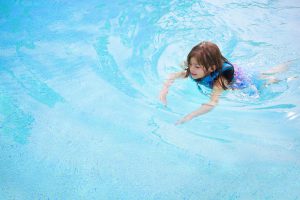 Water safety is even more important in the summer months as we spend time by the pool or out boating on the lake. If you have your own pool or hot tub, here are some things to keep in mind:
Make sure that there is safety fencing between your home and the water feature, and that the gaps between the bars or slats are too small for even the littlest child to squeeze through (less than 4"). Gates should also self-close and self-latch (with the latch out of reach of children)
Don't leave children unattended in or near water at any time. Always make sure there is an adult present, preferably someone with First Aid and CPR training
Make sure everyone knows how to swim, and equip non-swimmers with life-jackets as an extra precaution when in the water (keep a few of these close by the pool deck)
Teach kids the proper etiquette around water – no running or pushing around the pool, no diving in areas that are marked unsafe to do so, and always contact a lifeguard or adult if there is an emergency
Fact: Young children ages 1 to 4 and men ages 15 to 44 are at the greatest risk of drowning.
Around the Home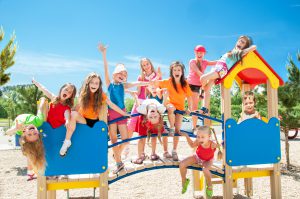 With everyone spending more time outdoors in the nicer weather, making sure you keep safety top of mind means that your family can focus on having fun! Many summer accidents or injuries are preventable, and here are some ways to keep everyone safe:
Ensure play areas in your yard or any common areas near home are safe for kids to play in (for more tips, check out our other blog post, Supervise Playground Activities)
If you're hopping in the car to run errands, check for children playing in or near your driveway. Do a full walk around of your car before getting in, always (and constantly) check your mirrors as you start to move, and pull out slowly
Prevent falls from windows by installing window stops or guards, and by keeping them partially closed (no more than a 3″ opening). Make sure that deck openings are no more than 4" wide, and keep furniture away from windows and decks to avoid the temptation to climb
Keep a clear fire zone of 10 feet around any home structures by keeping trees and hedges trimmed back, and by removing damaged or hanging branches
Only operate barbecue grills outdoors and position them well away from the house and roof, and any combustible objects like fences, deck railings and landscaping
Depending on your home, keep up to 100 feet of garden hose with an attached nozzle connected and ready for use
For other simple reminders and tips for staying safe in the summer, click here.
If you'd like to share more ways to stay safe as summer approaches, connect with us on Twitter or Facebook!
Terms and Conditions
All content provided on this blog is for informational purposes only. The owner of this blog makes no representations as to the accuracy or completeness of any information on this site or found by following any link on this site. The owner will not be liable for any errors or omissions in this information nor for the availability of this information. The owner will not be liable for any losses, injuries, or damages from the display or use of this information. This policy is subject to change at anytime.