Summer brings endless days of fun and time spent outdoors. We get a chance to enjoy the sunshine and cool off by the water, making memories to last a lifetime. While the summer months bring so much fun, it's important to stay safe too, so we've put together Sun & Water Safety Tips for you to keep in mind no matter what you and your family get up to this season!
Sun Safety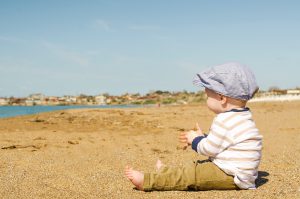 Whether you're enjoying the sun from the comfort of your back yard, you're spending a few days at your favourite campground, or you've jetted off somewhere more exotic, sun protection is key. Here are some general safety tips for your entire family:
Wear a waterproof sunscreen with SPF 30 – 45 to block up to 98% of UVB rays (anything higher than that doesn't really do much more, and nothing blocks 100% of rays). Apply 20 – 30 minutes before heading into the water and reapply regularly throughout the day (about every 90 – 120 minutes, even if your sunscreen says it's waterproof).
Keep babies younger than 6 months out of direct sunlight and in the shade as much as possible. Babies can't regulate their body temperatures like older children and adults, so they're at greater risk for heat stroke, and their delicate skin means they can get burned easier too.
Limit your time in the sun, especially between the hours of 10am and 4pm when the sun's UV rays are the strongest – take regular breaks in the shade during this time, and wear a hat and sunglasses to add further protection.
Drink lots of water to stay hydrated and avoid sugary drinks or coffee/tea which can do the opposite.
Be careful near water and sand as the sun's rays are much more easily reflected off these surfaces, which can lead to unexpected sunburn.
You can avoid heat stress/exhaustion by limiting strenuous activities during hotter hours, drinking water before you feel thirsty, and wearing light-coloured, lightweight clothing to help keep you cool.
As a parent, you can set a great example for your kids by being a role model for sun safety – if you take any of the steps above, and your little ones see you doing so, they are more likely to follow your example. For more great sun safety tips, check out KidsHealth.
Water Safety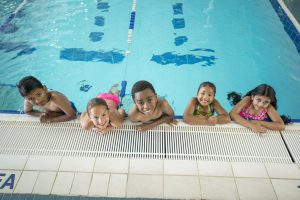 If you're spending time near any body of water, like a pool, lake, or the ocean, everyone should behave responsibly and safely to avoid accidents. Here are some general safety tips for your family:
Never leave children or inexperienced swimmers alone in or near the water – there should always be an adult to supervise, and it's a good idea to designate a "Water Watcher" who keeps a close eye on everyone in the pool.
Teach kids about water safety and make sure they know how to swim – for those that don't know how, or are new or inexperienced swimmers, equip them with a lifejacket (or Personal Floatation Device) in or near water.
Everyone should understand the importance of pool etiquette – don't run or push others, don't dive where it's either too shallow or you don't know the depth, and use slides feet-first.
If you have a pool or hot tub at home, make sure that there is safety fencing between your home and the water feature, that gaps between bars or slats are too small for even the littlest child to squeeze through, and that gates self-close and self-latch.
Adults should learn CPR and First Aid to help in the event of an accident. Keep emergency numbers and a phone, as well as proper rescue equipment (life preserver, shepherd's hook), nearby while everyone's enjoying the water.
If you're taking part in fun vacation water activities like scuba diving, snorkelling, or surfing, make sure you take the time to learn about the activity from a safety perspective, and always make sure you're out with a "buddy"
Staying safe around water means that everyone can stay cool and still have fun. For more great water safety tips, check out KidsHealth, and, if you're travelling, here's a Complete Guide To Travel Vaccinations & Travel Health.
Enjoying the sun and water safely means fun for everyone, and taking the right precautions can keep you and your family healthy throughout the summer season. If you have any extra tips you'd like to share, be sure to connect with us on Facebook or Twitter!
Terms and Conditions
All content provided on this blog is for informational purposes only. The owner of this blog makes no representations as to the accuracy or completeness of any information on this site or found by following any link on this site. The owner will not be liable for any errors or omissions in this information nor for the availability of this information. The owner will not be liable for any losses, injuries, or damages from the display or use of this information. This policy is subject to change at anytime.