The sun is shining and spring is here, but it also means that flood season is nearby. Floods are the most common natural disaster in Canada, and the largest proportion of floods are seen during the Spring and Summer. At this time of year, they are not something to take lightly!
The best strategy to deal with floods is to be prepared. Keep reading for preparedness ideas for your family and workplace, and key things to remember if you are impacted by a flood.
Preparing for a flood:
Know the risks in your area: While flooding can happen anywhere, certain areas are more prone to flooding, including coastal cities, those in low lying areas, and those adjacent to rivers or lakes. If you live in the USA, check out the Interactive Flood Information Map by NOAA to learn more about floods in your state. In Canada, Environment and Climate Change Canada is your go-to resource.
Extend your insurance coverage: Standard homeowners insurance policies don't include coverage for flood damage, so be sure to add flood insurance to your policy. Even if you don't live in a high risk flood zone, snow, heavy rain, a dam breach, or even a hurricane, can cause flooding that impacts your home or workplace, and all your belongings. Visit the page for the National Flood Insurance Program by FEMA in the US, and ask your insurance provider or broker about flood coverage if you live in Canada.
Know the difference between a flood watch and flood warning:
A flood watch means that flash flooding is possible in the area. It is a signal to collect last minute preparedness items, listen to the media for further notifications, and ensure you know what to do if a flood does occur.
A flood warning means that a flood is taking place, and actions are needed to safeguard your family and belongings. If the flooding is expected to be very severe, you should prepare to evacuate from your home. Unplug all appliances and equipment, and turn off all gas valves and heating.
Prepare your home: Do this by sealing the bottom of doors to prevent water from entering in the event of a flood. You'll also want to ensure you have a proper drainage system, and that basement pipes have no reverse flow valve installed. Having sandbags on hand is also a great way to prevent damage to your home.
Ensure your emergency kit and evacuation plan are up to date: Read our complete guide to emergency kits to get started, as well as our tips for evacuation plans to help. Don't forget to consider pets and livestock in these plans as well!
Immediately before a flood: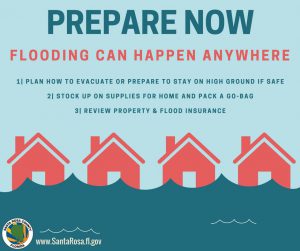 If there is a flood watch or warning in your area, follow these steps to minimize damage to your property, and keep your family safe:
Remove toxic waste from the bottom floor to avoid contamination if flooding reaches your home (e.g. paint, pesticides or oil)
Unplug all appliances and equipment, and turn off all gas valves and heating. Learning how to do these things ahead of time will help immensely when you are under a time crunch.
Move to the highest floor possible, and review your evacuation plan with your family or co-workers. Ensure your emergency supplies are on this floor, and bring other important items with you if you have time.
Let your support network know of your situation and how they can support you. Hint – you can use ePACT for easy communications with your support network!
Protect your home with sandbags, if possible
During a flood:
Listen to the radio, watch the local news, or follow your local emergency authorities online to know when to evacuate. If you are given an evacuation notice, waste no time and leave as soon as you can. Keeping your emergency kit nearby and ready to go in a portable container can help speed up this process.
Never cross flood waters, whether you are walking or driving. It's impossible to tell the depth of flood waters, and there is always a chance that the road has washed out beneath the waters. Your safety is always worth the time it takes to find a different route!
Finally, if you are wondering what to do after a flood, be sure to check out our blog article with the key things you need to know. You can also help prepare and support your family and friends with fantastic Red Cross Resources, accessible right from within your ePACT account.
Happy preparing!
Terms and Conditions
All content provided on this blog is for informational purposes only. The owner of this blog makes no representations as to the accuracy or completeness of any information on this site or found by following any link on this site. The owner will not be liable for any errors or omissions in this information nor for the availability of this information. The owner will not be liable for any losses, injuries, or damages from the display or use of this information. This policy is subject to change at anytime.