Maintaining the privacy and security of our users' and clients' data is ePACT's top priority. Please read our Privacy and Security policies for complete details on the safeguards, standards and audits we maintain to ensure the safety of your data. If you have any questions about our Privacy and Security policies, please contact our Privacy Officer.
ePACT meets – or exceeds – legislative privacy requirements for the US and Canada, is SOC 2 Type II compliant, and works with 3rd party auditors to validate the highest standards for our policies and practices. Our legal team and Privacy Officers know the ins and outs of privacy requirements so your organization can rest easy knowing your data – and the data of the families you serve – stays private.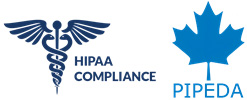 Whether ensuring our users control their own data and who has access to it, to maintaining the highest levels of data encryption, to conducting ongoing audits, tests and software updates to ensure outstanding security, ePACT is committed to keeping our users' and clients' data safe at all times.