A Year to Remember (and then immediately forget!)
It's hard to believe, but 2020 is (let's be honest- 'finally'!) drawing to a close and the holidays are officially upon us!
This past year has been a very challenging for everyone, with so much turmoil, uncertainty and changes to our everyday lives and routines.   It was also, however, a year of massive growth and positive change for ePACT.  After all, ePACT was built for emergencies- and there's been no year more affected by emergencies in recent history than 2020.
We had the unique opportunity to adapt to an ever-evolving situation and really put our product (and product team!) to the test.  We're extremely proud of what we were able to accomplish and the pivots we were able to make as a team to continue to support our clients.
We also had the chance to see firsthand the dedication of our clients, who continued to run programs to support frontline workers and family members returning to work, while navigating this pandemic. There were many ups and downs, with changing regulations, shutdowns, re-opens, and surges….but through it all, organizations such as yours continued to persevere and support your communities!  So THANK YOU!
We'd love to share a few of our highlights with you, as well as some exciting news for the year ahead!
Helping with Your COVID-19 Response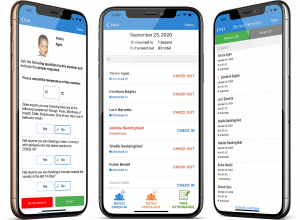 "Thank you so much we have just recently started using the health screening for our elearning camp and it has certainly saved us time and energy."
Recreation Supervisor, Park District of Forest Park
Product Updates
Features & Improvements
ePACT was purpose-built to help your organization and your members prepare for and respond to all types of emergencies. Making sure you are equipped to handle the pandemic has and will continue to be our top priority.  Aside from updating our existing features to promote social distancing and reduce high-touch paper processes, we also released the following:
Daily Health Screening & Temperature Tracking
Prescreening Options (and flexibility to combine pre-screen and on-site screening)
Contactless Check-In/Out (Administrator controlled or QR code based)
COVID-19 Vaccine Collection module
COVID-19 Vaccinations
With the arrival of vaccines, tracking who has received their dose will become a crucial part of your 2021 agenda.  We always had the ability to collect immunization information, but we are now customizing even further for COVID-19.
Easily screen who has received their vaccines and which dose they are on.
Track those still waiting or who have an exemption
Proof of vaccination that can be uploaded by members or staff
Easy filtering and messaging tools
WE WANT TO HEAR FROM YOU! Let us know what you would like to see in the vaccination module  by answering a few questions in this short survey.
Community Support Program
This summer, ePACT launched its Community Support Program, aimed at helping community organizations access necessary tools, despite budget restrictions. Some benefits offered with this program:
Set-up fees were waived in full
Complimentary trials for new clients
Complimentary trials of COVID-19 features for existing clients
Free Employee dashboards for existing clients during summer or fall months
Free use  for childcare programs that were free-of-charge for frontline workers
Surveys & Reports
In addition to the above feature, we also produced 2 Covid-19 related surveys and corresponding reports:
Return to Recreation Industry Survey & Report
From May 15 to June 3 2020, ePACT conducted an industry-wide survey of recreation, camps and childcare organizations across North America.  We wanted to find out how community leaders had been preparing for the reopening of facilities and relaunching of new programs.
With feedback from supervisors, managers, directors, and CEOs of leading recreation and childcare organizations, the enclosed report provides an inside look at how new measures are being developed and implemented to prepare facilities, protect members and staff, and provide enjoyable, engaging programming over the summer months and into the future.
Fall & Winter Programs Survey & Report
Earlier this year, the team at ePACT surveyed recreation and childcare programs across North America to find out how they were coping in light of the current pandemic and to learn what their plans, priorities and practices were in terms of the new normal. We believe these industry-wide insights will be invaluable as recreation and childcare programs re-open this fall and winter.
The coming months will likely bring changes in regulations and possible new surges, so sharing lessons learned can help organizations respond more quickly and adapt to an ever-changing world.  From our team at ePACT to yours, we wish you the very best as you continue to prepare your facilities and map out  programs for the fall and winter seasons.
CEO's Message about 2020:
I am going to take away these 3 things (and leave behind the rest):
Be Prepared – When Christine and I founded ePACT 9 years ago, it was in the aftermath of a friend's harrowing experience during the 2011 Japan earthquake, tsunami and nuclear reactor meltdown. We knew then that anything CAN happen. But it's easy to forget. The time between the biggest disasters in our lives is, fortunately, quite long. It's easy to get complacent and forget that it's the little steps we take every day that build our resilience. (Wear that mask)
Be a Community – I often hear people say 'when disaster comes I"m ready to protect my family!' That's great, but what gets us all through the big things is not what we do for ourselves, but what we do for each other. (Thank that front line worker, bring an elderly neighbour dinner)
Be Tenacious – For the most part, for most of us in North America, we've not experienced the types of long, harrowing disasters that required the generations before us to dig deep and keep going, day after day, week after week. This pandemic asks of many of us a level of tenacity we've not had to find before. It will make us stronger, it will get us through. (Don't give up!)
Read more here. 
Thank You & Happy Holidays!

Welcome 2021!
We look forward to being able to serve you in 2021 and wish you all a safe, happy and healthy Holiday Season and New Year! If you would like more information on how ePACT can help support your organization, contact us today.