Carbon Monoxide (CO) is a colorless, odorless gas found in the fumes produced by many of the things we use daily – our vehicles, stoves, grills, fireplaces, gas ranges or furnaces. Much of the time we aren't exposed to dangerous levels of this gas, as we are either outside (vehicles, grills) or appliances that can emit fumes are well installed and have proper ventilation. However, leaks can happen, and when they do, we rely on a carbon monoxide detector to let us know the air around us is unsafe.
Symptoms of Carbon Monoxide Poisoning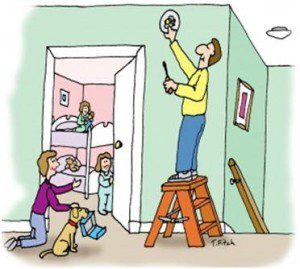 In the event of a gas leak, Carbon Monoxide poisoning can be a serious danger and everyone in your home or workplace can be at risk. The most common symptoms of CO poisoning are:
Headache
Dizziness
Weakness
Upset stomach
Vomiting
Chest pain
Confusion
Because it's odorless, you might not be aware that your home or workplace has a leak when it happens, and by the time anyone experiences symptoms, you and your family could have been significantly exposed, increasing the likelihood for long term damage (when inhaled, CO reduces the ability of blood to carry oxygen).
FACT: Each year more than 400 Americans die from unintentional CO poisoning not linked to fires, more than 20,000 visit the ER, and more than 4,000 are hospitalized.
With stats like that (Source: CDC), it's easy to understand the importance of having a Carbon Monoxide Detector in your home. As your fire alarm detects smoke, as soon as a CO detector senses the presence of CO in the home, it emits a sharp beeping sound to alert you and your family, so that you can evacuate as soon as possible.
Once You Have Your Detector
As you find and install the right detector for your home, consider these tips:
Ideally you should install one detector outside all sleeping areas, but it's typically recommended that you have one on each floor of your home.
Detectors should be installed at knee-level – the approximate height of a sleeping person's nose and mouth. If you have young children or pets that might tamper with the detector, you can move them up to chest height (either way, they shouldn't be as high up as a smoke detector because CO mixes with air and doesn't rise like smoke does).
Don't allow furniture, curtains or other objects to block the detector as this can make it less effective at reading the air around it.
If you have a furnace in the basement, a gas clothes dryer, or a garage, place detectors in all those places – basically anywhere you have a solid fuel-fire appliance, you should have a detector nearby.
Check and/or replace the batteries when you change the time on your clocks in the spring and fall, and completely replace the detector every 5-7 years.
For more about Carbon Monoxide Detectors, their installation and recommended brands, check out this great article from Safety.com.
If There's a Leak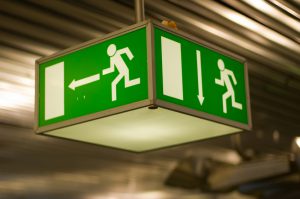 In the event of a leak, your alarm will go off (and display the current levels of CO in your home if you have a digital display), and you should evacuate your home as quickly as possible. If you can open windows and doors on your way out, that can help move the gas out from your home, but don't hang around to do so otherwise.
Once safely outside and away from the gas, call your power or energy company – they can send someone out to shut off the gas to your home, and you can safely wait outside until the air in your home is clear. Contact the appropriate services to have your furnace and/or appliances checked out, and ensure that the leak doesn't continue or happen again. Be sure to keep a close eye on your CO detectors in the days following to ensure there's no further gas leaking into your home.
If you don't yet have Carbon Monoxide detectors, consider purchasing them as part of your winter emergency preparation, and make sure your family can get out as quickly as possible if a leak happens.
Feature Image Credit: Kidde
Terms and Conditions
All content provided on this blog is for informational purposes only. The owner of this blog makes no representations as to the accuracy or completeness of any information on this site or found by following any link on this site. The owner will not be liable for any errors or omissions in this information nor for the availability of this information. The owner will not be liable for any losses, injuries, or damages from the display or use of this information. This policy is subject to change at anytime.