We're pretty big on safety here at ePACT, as it's the basis for our product, and the services we provide to organizations across North America, and families and individuals all over the world. And this includes youth sports associations – from soccer and baseball, to football and hockey, we're proud to support player safety throughout the season. So how do we do it?
Many sports associations use paper forms to collect important medical and health information from athletes. This is extremely time consuming for families having to fill out yet another paper form, and for team administrators who must manually collect, follow up on, and manage multiple paper forms per player in time for the start of the season. Paper forms are highly insecure, because there's no way to protect the information on them from getting lost, stolen, or misused – and when it comes to personal information, every effort should be taken to protect the privacy of the individual to whom it belongs.
That's where ePACT can help! Here are some of the ways ePACT can be used to support risk management efforts within a youth sports organization.
No More Paper Forms
ePACT's online system collects the same information normally collected on a paper form in a single online record for each player. This single record makes it easy to collect, manage, and update information as necessary so that staff always have the most up-to-date information, which is crucial in an emergency. There's no worry about hard-to-read handwriting, missing or incorrect information, so staff can focus on their athletes and the game itself.
ePACT's single record also ensures that information is stored securely online – information that cannot be accessed without authorization. This protects sensitive health information and the privacy of the families it belongs to, which creates peace of mind for everyone.
Authorized Access Only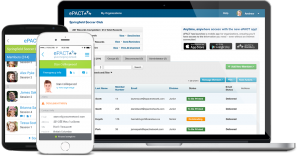 We mentioned before that paper forms aren't secure, and that's because it's extremely difficult to control access to personal health information – when forms are stored in a binder or folder, and left on the bench during practice or a game, how do coaching staff prevent anyone from seeing player information? What happens if the binder gets misplaced or is stolen?
Associations have complete control over who has authorization to view player information. While there might be a main administrator for your association, they will allow select staff, to view specific sets of data. This means that staff only have access to the player records for those in their team or group, and will not be able to see information for every player in the association.
Finally, ePACT allows administrators to remove access to player information at the end of the season, or if they leave the association, continuing to protect the privacy of players.
Stay Informed on Sports-Related Injuries
Each year, young athletes visit hospital emergency rooms over a million times, or approximately every 25 seconds, for sports-related injuries. Unfortunately, concussions are one of the most common sports injuries for youth – between 2010 and 2014, concussions for athletes under the age of 22 rose 500%. At every practice, game, or championship events, coaches, team managers, or trainers are held responsible for the support and wellbeing of athletes in their care.
ePACT's ability to collect specific information through features like our Concussion Module, created in partnership with SportMedBC, helps sports associations collect in-depth concussion information for all athletes. This feature:
Ensures managers and coaches are aware of an athlete's specific concussion history
Guides coaching staff to adjust training and play for affected athletes
Confirms that athletes only return to play when it's safe to do so
Shares accurate health information with doctors and trainers when necessary
The Same Security as Online Banks
As an online service, ePACT uses the highest level of encryption to protect player information. Families log into ePACT using their unique user ID and password, and ePACT connects using a secure socket layer (SSL) connection to keep information private.
This connection provides 256-bit encryption, which is the same standard required by the US Government in transmitting sensitive and important data, and scrambles information so that it's unreadable without a decryption tool. This is another way ePACT provides sports associations with the confidence that information collected using ePACT is always protected and that doing so online is much more secure than collecting personal health information on paper forms.
The ePACT Admin App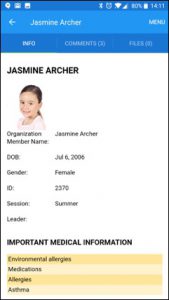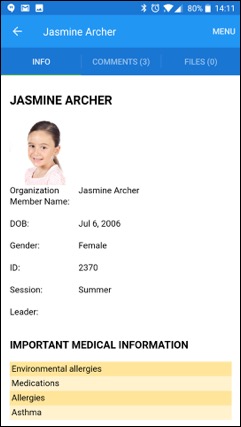 Whether you're at a weekend tournament, practicing in an arena, or travelling between games, the ePACT Admin App gives authorized team staff quick access to player medical records in the event of an emergency. Staff can view key information to support a player with an injury, allergic reaction, or involved in a widespread disaster, and can do so even without a cellular or internet connection – perfect for those indoor arenas with spotty signal! The App replaces binders or folders of paper forms, and information is secure within it, requiring authorized log in to access it. You can learn more about the ePACT Admin App here.
Interested in learning more about ePACT? Schedule your free, no-obligation demo and let us show you how we can help your sports association safely manage player health information. And if you're a RAMP customer, we're partnered to bring you additional functionality!
Terms and Conditions
All content provided on this blog is for informational purposes only. The owner of this blog makes no representations as to the accuracy or completeness of any information on this site or found by following any link on this site. The owner will not be liable for any errors or omissions in this information nor for the availability of this information. The owner will not be liable for any losses, injuries, or damages from the display or use of this information.
This policy is subject to change at anytime.