Have you heard about our newest features? The entire ePACT Team is thrilled to bring you a new search and filter, automated reconfirmation requests, and additional functionality for group administrators!
Advanced Search and Filter
We've enhanced the entire Advanced Search and Filter, with usability improvements and additional functionality: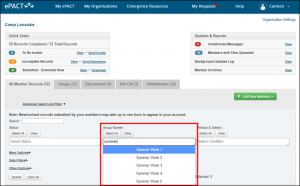 Each section now contains a search field, where you can easily search for the specific keywords. For example, you may want to view all the Groups that contain the phrase 'Week 1' or search for all types of 'Allergies' in the Medical and Dietary section.
Date filters make it simple to find the exact members you are looking for: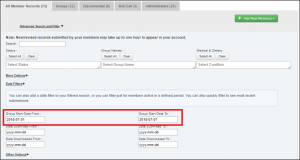 You can now search based on these parameters:
Group start date: View all the members assigned to groups with a particular start date. For example, you may want to view the members in programs that start on July 1, 2018, or for the upcoming week or month of camp.
Date submitted: View all the members who submit their information before, after, or in between particular dates.
Date downloaded: View all the members who have had their record downloaded by your administrators before, after, or in between particular dates.
Usability improvements have replaced the checkboxes in the search and filter with the ability to click on the entire name of the search parameter.
Auto Reconfirms
Auto reconfirms ensure that you always have up-to-date information for your members. This new feature allows you to set a time frame, such as 6 months, for example, and the system will automatically send a reconfirm request to anyone who's information is more than 6 months old. This asks them to go through the information they provided in the past to ensure it is still up-to-date, and make any changes if needed.
Sneak peek – automated reminders are coming soon!
Enhancements for Group Administrators
Are you a group administrator who oversees multiple groups, programs, or teams? If so, our newest enhancements are for you!
We now have a single view for group administrators where you can see all the members in all of your groups. So, if you oversee five different groups with different members, you can view all your members in one view, or opt to view the members in just one group: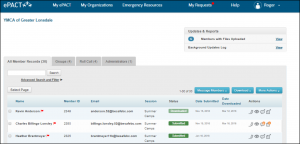 When you log in, you'll now see the option to view your organization as a whole, instead of each individual group. From there, you can view all the members you are responsible for on the All Member Records tab, or view the members in an individual group on the Groups tab:

From the All Member Records tab, you can also perform searches and export reports for all your members (for example, generate a report for any of your members who are taking a medication).
Toggling Between your Personal and Administrator Account
ePACT is becoming more mobile friendly, and with this, you'll notice changes as to how you toggle between your personal account and your administrator account. To view your personal account, simply click on 'My ePACT' in the top header at anytime. Or to go to your administrator account, click on 'My Organizations'.
We hope you enjoy these new features! If you have any feedback, please be sure to share it with us at help@epactnetwork.com.
Terms and Conditions
All content provided on this blog is for informational purposes only. The owner of this blog makes no representations as to the accuracy or completeness of any information on this site or found by following any link on this site. The owner will not be liable for any errors or omissions in this information nor for the availability of this information. The owner will not be liable for any losses, injuries, or damages from the display or use of this information. This policy is subject to change at anytime.