Another amazing year has come to an end, and as we welcome 2018, we're excited to look back over 2017 and reflect on everything that's happened. First and foremost, we'd like to thank you – our users, clients, friends, family, and community – for your inspiration, support, and enthusiasm for all that we do at ePACT. We've had a busy 2017, from supporting the Canadian Red Cross, to attending industry events, welcoming new team members, clients and partners, and moving to our new office! So, here's our Year In Review – we hope you enjoy reading about it as much as we did experiencing it!
Where Are We Now?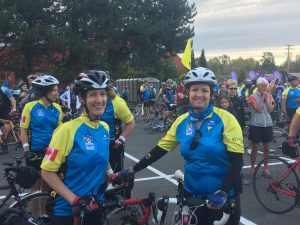 Did you know that ePACT has users in 123 countries, in addition to every State in the US and every Province and Territory in Canada? ePACT has expanded to an additional 20 countries this year, and we are so excited to support our users across the globe!
ePACT welcomed community groups like the YMCA of Greater Brandywine, City and County of Denver, and City of Davis Parks & Community Services Department, while also helping to support the Haida Gwaii Villages of Masset, Port Clements and Queen Charlotte.
We had the pleasure of supporting special events like the Girl Guides Spirit of Adventure Rendezvous or "SOAR 2017", and the always inspirational BC Ride to Conquer Cancer, while helping the safety and support of athletes in Grande Prairie Minor Hockey, Olympian Swim Club, and Grande Prairie Lacrosse, to name just a few of our fantastic new sports clients.
Whether spreading across countries, communities or households, we are so thankful for the fantastic feedback, testimonials and champions we have from clients and families alike. Please keep telling us where you'd like to see ePACT go next with our features or support services!
Connecting With Our Community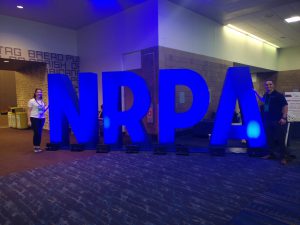 Throughout 2017, the ePACT Team visited several key events, connecting with our clients and having the pleasure of meeting new people in the sports and Parks & Recreation communities.
In February, Elora and Wagner attended the California Parks & Recreation Show in Sacramento; Matt and Lyssa travelled to the North American YMCA Development Organization (NAYDO) Conference in San Diego; Michelle and Wagner got to experience the beautiful city of New Orleans for this year's National Recreation & Park Association Conference (NRPA) – one of our exciting new partners; and we were invited to join ACTIVE Network's user group meetups in Pennsylvania, California, Washington, and Colorado. In the sports world, our team was also lucky enough to connect with many hockey associations and ePACT users at the BC Hockey AGM and Ontario Hockey AGM.
Business of the Year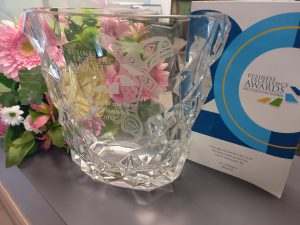 We were elated to be chosen as the 2017 Business of the Year by the North Vancouver Chamber, as part of its Business Excellence Awards. This award is presented to a North Vancouver organization with a proven track record of growth, vision, integrity and active involvement in the community.
As part of the finalist process, we had the opportunity to work with students from Capilano University's Film program on this awesome video to tell our story.
ePACT Partnerships
This past summer, North America experienced horrific natural disasters across many communities. As an emergency network, ePACT was proud to support the Canadian Red Cross during the devastating wildfires in British Columbia, helping evacuees register to receive support services. We are thrilled to continue to partner with the Canadian Red Cross in a number of ways, including promoting their training courses and preparedness resources with special discounts for ePACT users and helping to encourage preparedness on a national level.
ePACT was also chosen as the exclusive emergency network provider for the National Recreation & Park Association (NRPA), the leading non-profit dedicated to the advancement of US parks and recreation. The NRPA serves over 70,000 members across all the US States, and we'll be working together to help community groups be safer and more prepared for their teams and the families they serve, ultimately helping the wellbeing of communities overall.
The ePACT Family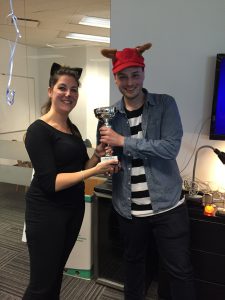 We had the pleasure of welcoming three new team members to the ePACT family throughout 2017. Chris joined the QA Team, and quickly claimed the ePACT-ley Cup with his superior Halloween donut eating skill; Nick joined the Customer Success Team, bringing his awesome sense of humour and passion for old-school Nintendo games; and Alex is the newest member of the Sales Team, adding her love of puppies and passion for connecting with people to the mix!
With the ePACT family growing, we moved from our Lonsdale Quay office up to a larger space up the street in October – so if you're ever in the North Vancouver area, please drop by! You can say congratulations to Angela who got married this summer, or to Elora and Michelle who are now planning 2018 weddings, or to Angela and Cici who both bought their first homes this year – so much to celebrate! This year was also one for travel with many taking first time visits to Japan and other parts of Asia, as well as Hawaii and Mexico – much needed breaks after so much hard work and successful growth of our company in 2017!
New Features
Every year, ePACT's Development Team and Customer Success Team deliver new features to improve the experience for clients and family users, and this year is no different!  Here are just a few of the new features launched this year:
E-signature to help meet licensing, legal and insurance requirements
Shared Files to collect organization specific documents like Permission to Administer Medication, or signed Doctor's forms
Communication capabilities via the ePACT Admin App
Medical Flags to quickly identify users with important medical conditions
Special accommodations and concussion modules
Quick log in for the ePACT Admin App
It seems each year brings new opportunities and excitement for the team at ePACT, and we are excited to see what 2018 brings. Thank you all for making the last 12 months truly remarkable!
~ Christine, Kirsten, and the ePACT Team