From snowboarding and skiing, to hockey and ringette, winter sports are one of the best parts of the season! Yet, because of the unique elements of snow, ice, and cold temperatures, it's always important to make sure that everyone participating in these sports does so in an fun, yet safe, manner. With this, we've put together five popular winter sports and how you can enjoy them safely this season!
Snowboarding / Skiing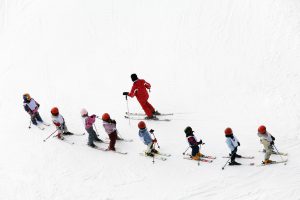 Choose the right mountain – Pick the mountain that best fits the level of experience for your family. Bunny slopes and lessons to learn the basics are a great way to get started. Don't forget to provide instructors with emergency medical and contact information too (you can use ePACT to make this process easy and convenient!)
Get the gear – Aside from looking cool on the slopes, gear is hugely important for minimizing or preventing injuries. Skiers and snowboarders should wear:
Lots of layers – you'll be much warmer this way, and you have the option to take off layers if you get hot
A jacket designed for skiing or snowboarding – these are waterproof and have an extra layer built in to keep snow from sneaking in
Goggles or sunglasses – these protect your eyes from snow and other objects while flying down the mountain and can help you see bumps and dips better on the mountain-side too (especially if the weather is particularly sunny or cloudy)
A warm hat (in Canada, this is a toque but many other places call it a "beanie") – cover your head to make sure you don't experience heat loss
Pay attention to signage – There are always plenty of signs to let you know the type of runs available and the areas that are out-of-bounds. Keep to the runs that are most suitable for your level of expertise, and never go out of marked areas – these are not maintained or patrolled, and are often dangerous due to avalanche risks, cliffs, or deep foliage.
Ice Hockey & Ringette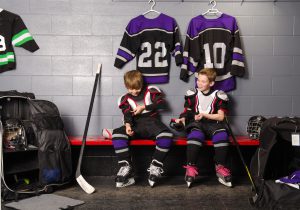 Ice hockey is considered one of the fastest sports, which means that the right equipment will keep players safe while they are on the ice. The same goes for ringette, which is similar to hockey, but with a few differences – there are no blades on the sticks, there are no pucks (players use a hollow rubber ring), and the game can be played on ice or in a gym (and it's entirely Canadian!).
Both sports require the right equipment from head to toe, but give focus to:
Skates – these fit a couple of sizes smaller than regular shoes and should have good support throughout the skate as well as protection in the toes (for those flying pucks and rings!)
Helmets with a full-face guard – make sure the helmet fits snugly and that it has a full-face guard with chin straps that are easy to secure. Make sure that yours is HECC certified in the US or CSA certified in Canada too!
Mouth guard – mouth guards do a lot to prevent serious injuries like concussions, jaw fractures, unconsciousness, and neck injuries
KidsHealth has more safety tips for athletes before and during ice hockey games or practices. And if you are using an outdoor rink, always ensure that the ice is thick enough for skating!
Football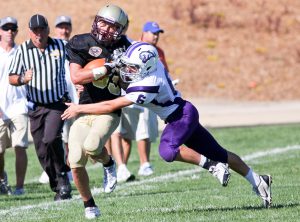 As practice and games take place outdoors, adding moisture-wicking garments under your padding can help keep you warm and dry. This fabric is designed to move sweat away from your body so that you can continue playing without catching a chill!
And even if your field is well-maintained in the winter months, cold weather can change the terrain – from hard packed ground to uneven playing surfaces. Remember these two tips:
Players and coaching teams should be aware of changes in the field, and do a quick review of the field for bumps or holes to avoid falls or ankle injuries
As some fields are accessible to the public, it is always a good idea to check for things that shouldn't be there, such as glass or litter
Soccer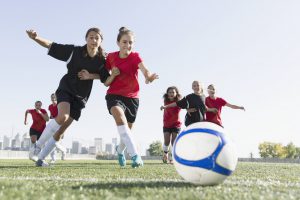 In soccer, players don't have the luxury of extra padding to keep them warm. Here's a quick guide for gear that can help:
Cover up – It sounds simple, but try your best to minimize exposed skin while playing soccer. Exposed skin loses heat to the environment much more quickly, while wind or rain can amplify these effects.
Fabrics – Cotton absorbs moisture and keeps it close to the skin, making it less than ideal for winter conditions. Instead, try polyester or polypropylene fabrics that wick moisture away from the body.
Hats – We all know that most body heat is lost through the head. Be sure to invest in a toque to retain heat during cold conditions.
Gloves – Not only will gloves prevent heat loss, but they make it much easier to control throw-ins on cold days.
If you're playing on a snowy or wet field, it's always a good idea to change to a synthetic, non-absorbent ball for play instead of the standard leather one. Leather balls absorb water (whether it's snow or rain) and become much heavier, which can cause injuries much easier.
If you have safety tips for your favourite sports that you would like to share, connect with us on Facebook or Twitter. And remember to play safe!