Emergencies are called as much because they're unpredictable and can happen at any time. Whether you're at work, school, travelling, or simply out and about running errands, we spend many hours outside of our homes, so it's entirely likely that you could experience an emergency or natural disaster during those times. So, what do you do if something happens while you're away from your home, family, and emergency supplies? In honor of Shake Out this month, we've put together earthquake preparedness tips for when you are outside your home.
General Preparedness
One of the most important things you can remember and put into practice, even before an earthquake occurs, is to always Drop, Cover, and Hold On. This has been determined as the best way to reduce injury and death during an earthquake, no matter the strength of the shaking.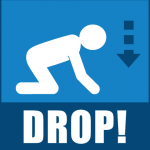 DROP where you are, onto your hands and knees to help prevent you from being knocked down, and to help you to stay low and crawl to shelter if nearby.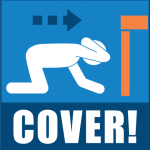 COVER your head and neck with one arm and hand – if there is a sturdy table or desk nearby, you should crawl under it for shelter; if there is no shelter, crawl next to an interior wall (away from windows).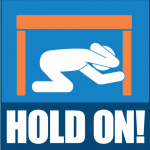 HOLD ON until the shaking stops – if you're under a table or desk, hold on to a leg with one hand, and be ready to move with your shelter if it shifts; if you're not under shelter, hold onto your head and neck with both arms and hands. Once the shaking stops, wait another 60 seconds to give things around you time to settle and to avoid things falling on you as you stand up and move.
At Work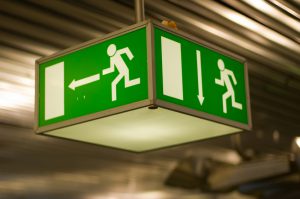 Workplace preparedness plan: Every workplace should have a disaster or emergency preparedness plan in place – this should be introduced to employees as they join the company, and reviewed and practiced regularly with all staff. Make sure you're familiar with the emergency processes in your workplace, including how to evacuate, where your muster points are, and how to alert first responders to your location if necessary.
Workplace emergency kits: Workplaces should have emergency kits that can be used if staff must shelter in place, so take the time to familiarize yourself with where they're stored in the office, and how to use the items within them. In addition, create a personal grab and go kit that you can keep by your desk – this can be adjusted based on your personal needs, including medication, comfort items, and a change of clothes (including a good pair of walking shoes). You should store everything in a backpack or tote that's easy to carry if you need to move, and you can get started with this great checklist from the Red Cross.
Evacuate safely: Determine the best way for you to make your way home from your workplace once you have determined that it's safe for you to do so – if you're able to walk home, this is where your comfortable walking shoes will come in handy, but if you're not, you'll want to make sure you have somewhere safe to go, or can continue to shelter in place at work.
Keep your family informed: Make sure you have a way to let your loved ones know what has happened, that you are safe, and whether you can meet them at your designated meeting spot. Always make sure you have an out-of-area contact that you can connect with in case your family or friends are impacted by the same disaster and you're not able to reach them.
At School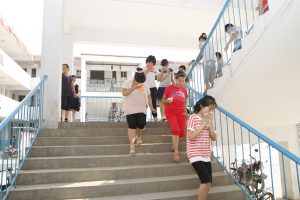 Schools have many preparedness processes in place to support students and staff in the event of an emergency or disaster.
Emergency contact forms: At the start of the year, make sure you get your emergency contact information to the school as quickly as possible so that they have the right information on file for your family. Be sure to keep the school updated if information like cellphone numbers, home addresses, or the names of those authorized to pick up your children in your absence changes. [Hint: This is where ePACT can come in handy!]
Prepared an emergency kit: Make sure your kids have a school emergency kit with non-perishable food, a solar blanket, poncho, personal items, and hygiene supplies to carry them through an earthquake. This can be kept in their backpack, but can also be stored in a locker for quick access after an emergency. Make sure they know how to replenish used items, and keep their kit up to date.
Practice: Older students should familiarize themselves with any emergency procedures for their school, and take part in regular practice drills so that they know exactly what to do in an earthquake. Make sure your children know how to Drop, Cover, and Hold On so that they can protect themselves wherever they are.
Have a family plan: Schools will have a specific student release process to work through following an earthquake – once staff have been advised by authorities that it's safe to let students make their way home, they will only allow younger students to leave with their parents/guardians or authorized individuals; older students are often allowed to go home by themselves, but should know the best place to meet the rest of their family, and how to do so as safely as possible.
In Your Car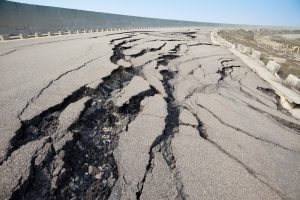 Vehicle emergency kit: Make sure you have a smaller version of your home emergency kit in your car in case you have to wait for help following an earthquake, and store it in a backpack so that you can carry it easily with you. Here are some key items to include in your kit.
Pull over: If you're driving and you experience an earthquake, look for an area clear of buildings, trees, or wires, slow down, and quickly find a place to stop (never stop under an overpass, and always stay away from traffic if possible).
Stay in your car: Once you're stopped, turn off your car, and stay inside it – the car's frame and roof can protect you from falling debris, and provides immediate shelter for you. Turn on your radio and listen for instructions from the authorities.
Drive carefully: If it's safe to drive again, always proceed with caution, keep a close eye on the roads around you, and never drive over downed power lines.
Travelling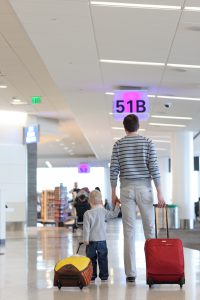 Get informed: If you're on vacation in an area that experiences earthquakes, it's a good idea to familiarize yourself with local emergency procedures so that you know what to expect if it happens. You might also want to register yourself with the government or emergency sites (like the Red Cross) before you go too.
Keep a small emergency kit with you: Pack a small travel emergency kit that you can keep with you – this can help you out if you're not in your room or hotel if an earthquake occurs. Also, you might want to make sure you have sturdy shoes and tougher clothing like jeans in case you have to move around in debris-filled areas.
Important documents: As with any vacation plans, it's a good idea to store your original documents (passports, visas, etc.) in your hotel safe, and make copies to carry with you once you leave your room. You might also want to include the phone number of the hotel, consulate, and your emergency contacts so that you can reach everyone if you need to (this is especially important if your smartphone gets damaged or runs out of battery).
Terms and Conditions
All content provided on this blog is for informational purposes only. The owner of this blog makes no representations as to the accuracy or completeness of any information on this site or found by following any link on this site. The owner will not be liable for any errors or omissions in this information nor for the availability of this information. The owner will not be liable for any losses, injuries, or damages from the display or use of this information. This policy is subject to change at anytime.