We tend to spend more time by the water during the summer months – it's the perfect way to stay cool and there are so many fun activities to enjoy too! However, water safety for kids is important wherever you are and at any time of the year, whether the water is in a bath tub, a fishpond, a swimming pool, or the lake.
While everyone should be water safe, it's especially important for kids to be properly supervised around water. Unfortunately, more than 3,500 people drown each year in the United States, and one in five are children 14 and younger, and most of those accidents are entirely preventable. To help your family learn the importance of water safety, we've put together some ways to keep safety in mind throughout the summer and the rest of the year.
Swimming Lessons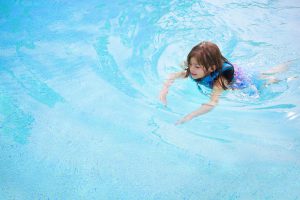 Get your little ones into swimming lessons. While it won't completely prevent a drowning accident, learning to swim can make kids more comfortable in and around water, and should also give them the skills to swim to safety if they end up in the water unexpectedly.
Kids should still wear personal floatation devices and follow the Buddy System so they never swim alone. It's also a good idea to choose to swim in places where there are lifeguards wherever possible.
Active Supervision
Even if your kids can swim, it's important to actively supervise them around any type of water, whether it's in the bath, by the pool, or at the waterpark. Children can drown in as little as 2 inches (6cm) of water, making supervision necessary for everyday household items like toilets, ponds, buckets, and sinks anytime a child is nearby.
If you're by the pool or the lake, designate one person as the "Pool Watcher" (especially if there is no lifeguard on duty or if you're in a home pool) and make sure that person has CPR training, just in case. If you're the designated "watcher", focus all your attention on the pool, and don't become distracted by phones or other people that can take your eyes off the kids in the water. You should also swap with another person every 20 minutes or so to keep your attention fresh.
Water Etiquette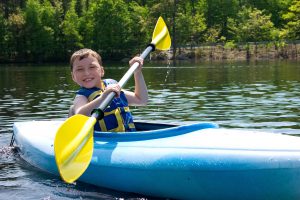 Take a moment to help your kids understand the importance of poolside rules, and to follow general water etiquette wherever they are playing:
By the pool: Children shouldn't run or push other people, they shouldn't dive in areas that are marked unsafe or if the depth is unknown, and they should know to contact the adult in charge or a lifeguard in an emergency
In open water: Everyone should watch for currents and never underestimate the power of one. Even the most competent swimmer can get swept away, so watch carefully and, as always, never swim alone. If anyone gets caught in a current, they should swim out of it in a direction following the shoreline before make their way inland
Teach children to ask for permission before going near or into water, and watch for areas that can become flooded when out walking or hiking (it only takes 6 inches of water to sweep a person away)
When boating, make sure your kids wear a personal floatation device (PFD) or lifejacket, even if they are a confident swimmer, and ensure it's properly fastened at all times (water wings, noodles or other pool toys aren't considered PFDs and aren't designed to keep swimmers safe).
Secure Your Home
There are so many water sources around the home that can be of interest to a child, so, to avoid the risk of drowning, here are a few things you can do to help minimize the risk, in addition to regular supervision:
If you have a pool or hot tub at home, make sure there is safety fencing between your home and the water feature, and that the gaps between bars or slats are too small for even the littlest child to squeeze through (less than 4"). Gates should self-close and self-latch, and the latch should be out of reach
Empty buckets and pails, ice chests with melted ice, or bathtubs as soon as you are done with them, and store them upside down and out of reach. Don't keep containers filled with water around your home unless the container is child resistant
Keep toilet lids closed when not in use, and secure with a toilet lock to prevent any curious children from opening the lid. It's also good to keep doors to bathrooms and laundry rooms closed too (washing machines are just as interesting to children!)
There are many things to be conscious of when it comes to being safe around water, and KidsHealth has a great article that covers many more, including making kids water wise, and understanding waterborne illnesses.
What are some of the tips and tricks you use to keep kids safe around water? We'd love to hear from you so be sure to connect with us on Facebook or Twitter.
Terms and Conditions
All content provided on this blog is for informational purposes only. The owner of this blog makes no representations as to the accuracy or completeness of any information on this site or found by following any link on this site. The owner will not be liable for any errors or omissions in this information nor for the availability of this information. The owner will not be liable for any losses, injuries, or damages from the display or use of this information. This policy is subject to change at anytime.