It's the middle of summer, school's a distant memory, and your kids might have finished up their summer camps or programs, so it's the perfect time to head out on vacation. Whether you're keeping it local, or heading off somewhere far, far away, make your vacation safe, so you can all focus on relaxing, making new memories, and enjoying all the fun activities you have planned.
Make Sure Your Home Is Safe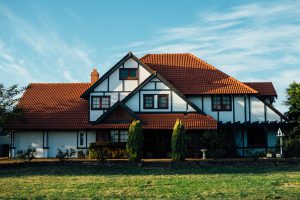 As you start to pack your bags, and find your passports, give some thought to making sure your home stays safe in your absence. Aside from the more obvious things like locking your doors and windows, and setting any alarms you might have, you might want to:
Hold your mail or newspaper delivery while you're away or ask a neighbour to collect your mail regularly (every other day is usually great).
Get timers to turn your lights and television or radio on at certain times of the day, and make it look like someone is home.
Ask a neighbour to park outside your house or in your driveway while you're away.
Planning like this can help make it look like your home is occupied while you're away.
Plan Before You Leave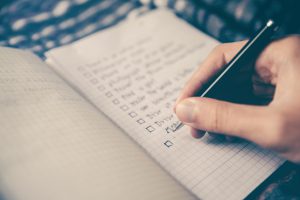 A little extra planning before you start your travels and vacation can go a long way to making things a little smoother for you and your family. From making sure you have the right information to travel insurance, here are some things to consider before you jet off into the sunset:
Make sure you have the address and telephone number of your vacation accommodation easily accessible – you can write it in your phone's notes, or save it as a picture, and make sure you have a paper backup in case your phone battery runs out.
Get travel insurance specific to your trip and make sure that everyone in your family is covered – some credit card companies offer travel and medical insurance as part of their packages, but you can purchase this coverage separately at your local insurance broker too.
Add a roaming plan to your mobile phone package, or purchase a SIM card that is suitable for the country you are travelling to – this can keep costs down on your regular plan, and means you have a way to stay connected on the go.
Tell close friends and family where you are going to be, and when you plan to return home. If you're driving to your destination, it's a good idea to let others know what route you plan to take.
Travel Safety Tips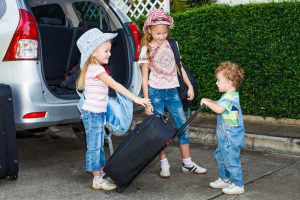 Whether you're flying to your holiday destination or taking a car, keep these safety tips in mind as you travel:
In the airport: Keep a close eye on your luggage and never leave it unattended or with anyone you don't know. There's a lot of people trying to catch their flights or make it through security, making airports one of the busiest places to be!
On the plane: Make sure your carry-on luggage is securely loaded in the overhead locker or under the seat in front of you. You don't want this falling on you or a fellow passenger! It's also a good idea to take out all the items you're likely to need during the flight before you sit down – that way you can keep everything close by and avoid having to rummage through a bag mid-flight.
In the car: Depending on how long the drive is, you might want to plan to switch drivers to avoid anyone getting overly tired, and you should schedule regular stops for gas, refreshments, and a chance for everyone to stretch their legs (this is especially important if you are travelling with pets and children).
If you're going to be travelling with a disability, take some extra time to plan your trip – from transport and accommodation to activities and assistance in an emergency, here's a complete guide to help you prepare for your next vacation.
While on Vacation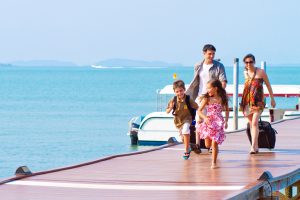 You've made it to your holiday destination and it's time for everyone to relax and enjoy, but don't forget about keeping safety top of mind!
It can be tempting to share photos on social media of your campsite or the family hanging out by the pool, but this can alert others that you aren't home. Share your vacation photos after the trip is over, and make sure your home avoids unwanted attention while you're away.
Don't carry all your important documents, cash, and credit cards with you at the same time. If you have a safe in your hotel room, lock away passports and extra cash, and only take what you need for the day with you.
If your family is big on activities, try to plan ahead as much as possible so that you can spend more time enjoying and less time dealing with unexpected problems. Try not to take part in activities that are too far from your normal experiences – for example, if you aren't very active normally, don't push yourself to go on a long hike or a challenging bike ride.
Make sure your family is safe in the sun and by the water. In the sun, always wear sunscreen with at least 30SPF, wear hats and sunglasses for added protection, and make the most of nearby shade. In the water, make sure unconfident swimmers wear a personal floatation device, always supervise children in and around the water, and try to pick swimming locations that have lifeguards on duty.
Summer vacations should give you the opportunity to spend quality time with your family, create new memories, and share new experiences together. By keeping safety top of mind, you can focus on all the positive parts of your summer adventures, rather than unexpected stresses.
Terms and Conditions
All content provided on this blog is for informational purposes only. The owner of this blog makes no representations as to the accuracy or completeness of any information on this site or found by following any link on this site. The owner will not be liable for any errors or omissions in this information nor for the availability of this information. The owner will not be liable for any losses, injuries, or damages from the display or use of this information. This policy is subject to change at anytime.