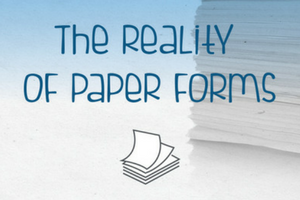 If one of your organization's goals is to reduce administrative costs and increase efficiencies, here's something for you to consider. At the beginning of every year or season, most organizations are required to collect contact, medical, emergency, photo release and other information for their participants. Typically this is done by asking parents or caregivers to fill in a variety of paper forms – often one form for each piece of required information. If you are responsible for this process, you know it takes a lot of time, effort – and cost – to manage this every year. But maybe you don't actually know how much.

Here's the reality of this collection process for organizations:
1. Managing the paper form process is expensive
ePACT conducted studies on the amount of time and associated cost required to process and manage paper forms across a number of organizations. Here are some findings:
20+ minutes per form is required to photocopy, distribute, collect, file, follow up, etc.
30% of the forms are returned incomplete or illegible.
Based on the amount of time to manage the form process, the average cost of managing paper forms per child is $5.
Most organizations handle 4-10 pieces of paper per child per year – this is a HUGE amount of paper and follow up required! This includes emergency, contact and medical forms, waivers, consents and terms of use. So, if you assume your organizations handles 4 pieces of paper per child and your organization has 150 kids, you are spending $3,000 per year to manage the paper form process. If your organization has 1000 kids, you are spending $25,000 – just to manage paper forms!
2. Information can only be accessed by certain individuals in your organization
Where do you store your emergency and contact information? In binders, file cabinets or in a central database that can only be accessed by a nurse or an administrator? How easy is it for these people to quickly access this information in a crisis? And if they are in binders, or carried around to events/offsite, are at risk of being damaged, lost or even worse, stolen?
Our studies demonstrated that if you need to access information stored in paper forms in the event of an emergency, you are looking at an average 5 minutes/form to access the critical data you need to respond to a crisis. That's vital time when you need to be attending to the needs of caring for your injured, ill or impacted participants.
3. Critical contact and emergency information quickly falls out of date
Medical conditions and contact details such as a new allergy, new emergency contact change rapidly and need to be updated.. In fact, in a 4-month period, 30% of forms fall out of date. Can you keep up with your paper form process?
How do organizations deal with the Reality of Paper Forms to save time and money?
By incorporating a system like ePACT, you can save time, effort, improve accuracy and accessibility. Parents and caregivers only have to input their child's medical information one time to the ePACT system and then can access and update their information anytime, anywhere, ensuring the information you have is current. That's it! The family has an electronic record of their child and family's information they can share with any organization that collects information via the ePACT system, and use this for their own personal needs, like for their nanny, babysitter or playdate!
Check out the Reality of Paper Forms infographic that highlights the hours, pieces of paper and dollars saved by implementing a system such as ePACT. Or access a web version of the same info here.
Terms and Conditions All content provided on this blog is for informational purposes only. The owner of this blog makes no representations as to the accuracy or completeness of any information on this site or found by following any link on this site. The owner will not be liable for any errors or omissions in this information nor for the availability of this information. The owner will not be liable for any losses, injuries, or damages from the display or use of this information. This policy is subject to change at anytime.