Let me tell you a story. On August 29th, 2015 I sat in awe at the overnight camp for the BC Ride to Conquer Cancer as I listened to a woman talk about her experience battling cancer. This woman had participated in the medical trials that are run with funds from the BC Cancer Foundation that come from the ride. She had gone into a trial with stage 4 advanced, terminal cancer, and had come out of the trial cancer free. Yes, cancer free!
She had been my Grandpa. Only she lived.
She had been my friend Roger. Only she lived.
She had been my friend Toyi. Only she lived.
She could be me, you, our friends, our loved ones. And she lived.
The 'Big' Moment
I decided in that moment that I was going to CURE cancer! And then it occurred to me. I have no medical background. All I've got is this bike. This bike, that has carried me over 5000 km in the 3 years since a brush with cancer. This bike, that has brought to me a group of cyclists who I now call friends, friends that continue to support each other through Cancer, and through all of the joy, sorrow, stress and delight that comes from living each day to its fullest. This bike, that has helped me to be a better me, a healthier me, a happier me. This bike, that is going to help me cure cancer.
Why I Can't Wait for My Third Ride to Conquer Cancer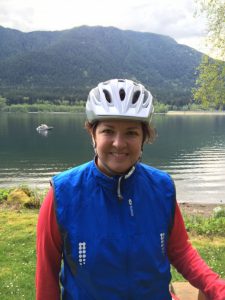 Fast forward to today, and I am anxiously waiting for the moment I get to be back on this bike for another ride. Thousands of riders have given so much of their time and energy to make it to the finish line, and hundreds of volunteers and sponsors have worked tirelessly to support this cause, while making sure that the millions raised go directly to the BC Cancer Foundation. It truly is incredible in every way.
Those who know me know that the Ride to Conquer Cancer means so much to me.  Over the past 3 years the ride has given me a community of close friends, and fellow riders, with a common goal – to eradicate cancer. But beyond that I have never seen, or done, anything more inspiring in my life. To witness 3000 people, from all walks of life, get on bikes at 7 am in the pouring rain, and help each other, the yellow flagged survivors, the man pulling his teenage daughter in a chariot, my friend Diana only 3 weeks from her last radiation treatment, make it 240 kilometres, is life altering.
So on Saturday, I will ride with thousands of other riders (many of them Cancer Survivors) who have inspired me with their strength and determination. It will be hard, and it will be long, but I will smile the whole damn way as we pedal closer and closer to a cure that now seems within sight.
ePACT is proud to partner with the BC Ride to Conquer Cancer for improved communications and safety. Read more here.
Want to support the BC Cancer Foundation? Donate here to help fund life-saving research and provide support to those undergoing treatment.
Terms and Conditions
All content provided on this blog is for informational purposes only. The owner of this blog makes no representations as to the accuracy or completeness of any information on this site or found by following any link on this site. The owner will not be liable for any errors or omissions in this information nor for the availability of this information. The owner will not be liable for any losses, injuries, or damages from the display or use of this information.
This policy is subject to change at anytime.