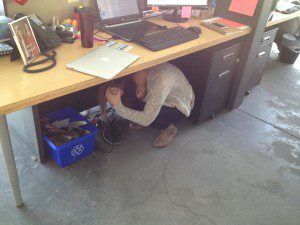 With the proper knowledge, you can act quickly when an actual earthquake hits, and be in a much better position to find a safe spot to prevent injuries. Take just a few minutes to read this article to ensure your safety – we promise you'll be thankful in the event of an earthquake!
During an Earthquake
If you are indoors:
'Drop, cover and hold on'
The ideal place to 'Drop, cover and hold on' is under a sturdy piece of furniture, such as a desk or table. If you can't find a desk or table where you are, lean against an interior wall and cover your head and neck with your arms. Also beware of any hazards nearby, like a bookshelf that may fall or overhead light fixtures.
If you are in bed, stay there, make yourself as small as possible, and protect yourself with pillows and blankets.
Stay indoors until the shaking stops. Once you are sure it is safe to exit, use the stairs (and not the elevator in case a power outage occurs) to exit the building. Remember that there may be aftershocks, and keep an eye out for downed trees and power lines, and falling building debris.
Be aware that fire alarms and sprinkler systems are frequently triggered by an earthquake even if there is no fire.
If you are outdoors:
Seek out a clear area away from buildings, trees, and power lines. Drop to the ground, cover your head, and remain there until the shaking subsides.
If you are driving, pull over to a safe location and stop. Stay away from bridges, overpasses and power lines, and stay in your vehicle with your seatbelt on until the shaking is stop. When it is safe to drive, avoid bridges and ramps as their structural integrity could have been compromised during the quake.
If a power line falls on your vehicle, do not exit. Wait for assistance from an emergency response team as the risk of electric shock is extremely high. To notify responders that you are in the car and need help, place a "Help" sign in your window.
After the earthquake
If you see downed power lines, stay at least 10 meters away to avoid the high risk of electric shock.
Know that there is always the chance for aftershocks to occur. These can be even more dangerous than the initial earthquake, as buildings or objects that were moderately damaged during the earthquake can obtain further damage to collapse or fall.
Beware of secondary effects such as landslides, flooding, and tsunamis, all of which can be triggered by an earthquake. Stay informed with local government reports to ensure you know the risks in your area, and whether you will need to evacuate.
Avoid lighting matches until you are sure there are no gas leaks in your home
Prepare for next time
Families can create free ePACT accounts to share critical emergency information (e.g. insurance details, contact information) and quickly communicate with their friends and families in a crisis.
With a free ePACT account, families can also save 15% off emergency kits with F.A.S.T emergency supplies.
Municipalities, schools, employers, camps and sports teams can use ePACT to communicate directly with residents, families and emergency contacts in an emergency. So if there's an earthquake, two way messages can be used to check on all employees, a voice message can be sent to residents about a tsunami warning, or a text can be sent to parents and emergency contacts to start an emergency release.
Terms and Conditions
All content provided on this blog is for informational purposes only. The owner of this blog makes no representations as to the accuracy or completeness of any information on this site or found by following any link on this site. The owner will not be liable for any errors or omissions in this information nor for the availability of this information. The owner will not be liable for any losses, injuries, or damages from the display or use of this information.
This policy is subject to change at anytime.