While we've not quite reached the winter months, Fall is a great time to catch up on those home maintenance projects that might get missed throughout the Summer months. Not only is the weather less likely to be working against you, but you can prepare your home for colder temperatures before they arrive. To get you started, we've gathered 8 Fall Home Maintenance Tips for you to check out.
Prepare Your Pipes
Pipes are sensitive to temperature changes, and if they're surrounded by poor insulation, water that's left in those pipes, when Jack Frost arrives, will freeze. Freezing water expands and puts pressure on the walls of pipes, causing them to crack or even burst – and if they're inside your home, this spells a wet disaster. Prepare your pipes by shutting off water to, and draining, outside taps, wrapping exterior pipes or those in unheated areas of your home, and insulating/heating areas where pipes are located inside the home.
Get Your Fireplace (and Chimney) Inspected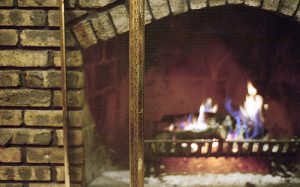 If you have a traditional fireplace and chimney, it's a good idea to get them both inspected by a professional chimney sweep. Through regular use, creosote builds up in the chimney stack which can be a fire hazard as it's highly combustible. If your chimney has more than ¼" of creosote buildup, it's advisable to get the entire chimney cleaned for the overall safety of your home, and before you start using the fireplace more frequently in the winter months.
Check Your Fire Extinguishers
Every home should have ABC-rated or dry chemical fire extinguishers (especially places like the kitchen) and now is a great time to check they're easily accessible and in working order. You should be able to get to any fire extinguisher quickly in an emergency (don't store them behind furniture or clutter), and it's a good idea to inspect for dents, rust, damage, or dust buildup. If you have a dry chemical extinguisher, check the pressure gauge (it should be in the green zone) and give it a shake to loosen the contents.
Get Your Heating System Checked
If you don't have a fireplace, you might have a furnace or other heating system within your home. Fall is a great time to get the system checked to make sure it's working effectively and efficiently, especially before you increase usage over the next few months. Making sure that this system is working properly can save you time and money throughout winter, so be sure to get your local professional in for a checkup so your home can stay cozy, warm, and safe!
Check Your Smoke and Carbon Monoxide Detectors
With the Fall time change, it's always a good idea to use that as a reminder to check the batteries in your smoke detector, and if it's ten years old or more, be sure to replace it entirely. If you have carbon monoxide detectors in the house, check those at the same time – test the batteries and the sensor in these to make sure everything is in working order (and remember that a CO detector should be replaced every 5-7 years).
Review and Update Emergency Kits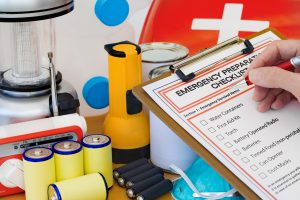 Whether you have kits for your home, work, or vehicle (or all three!), take the time to check expiry dates on food and medication supplies, and refresh items as necessary. It's also a good idea to update them with items specific to the winter months, like an ice scraper for your car emergency kit. You never know when a severe winter storm could arrive, and if your home experiences a power outage, or you're stranded in your car, you'll want to make sure you and your family are prepared for anything.
Outside Maintenance
Fall is characterized by the beautiful colours and swirling leaves of the season, so it's no surprise that this brings some outdoor chores for us!
Leaves and small branches can clog gutters quite easily, especially when they're wet, so make sure yours are cleared regularly – scoop leaves out of the gutter and use a hose to rinse it out and clear any clogged downspouts. You might also want to take a moment to inspect the joints and brackets so that your gutters are secure for the winter.
Trim nearby tree limbs back from your home (at least 10 feet) – you never know when a winter storm might hit, or if lightning will strike a tree in your yard, and trimming them can prevent them from damaging your roof or gutters if they break and fall.
Rake or sweep leaves from your lawn or patio areas and gather them in bags for collection or add them to your compost heap. Don't leave bags of yard debris in or near your home as they can be a winter fire hazard.
Collect and dispose of any garbage or recycling items, especially paper products like newspapers or junk mail, which can also be a winter fire hazard.
Safely Store Yard Equipment
Prepare your yard equipment for storage by draining fuel from gas operated items (like lawn mowers or leaf blowers), covering them, and storing them safely in a shed or garage. This will prevent seals or connections cracking or bursting throughout the winter months. At the same time, make sure your snow clearing gear (shovels, snow blowers, salt etc.) is well-organized, in working order (check for split handles or necessary repairs), and easily accessible so you can get to everything easily once the snow arrives.
Thinking ahead to the winter months and making sure your home is prepared can save you a lot of time and stress once the temperature drops, while making sure that you and your family are safe. What are some Fall home maintenance tasks you have on your list?
Terms and Conditions
All content provided on this blog is for informational purposes only. The owner of this blog makes no representations as to the accuracy or completeness of any information on this site or found by following any link on this site. The owner will not be liable for any errors or omissions in this information nor for the availability of this information. The owner will not be liable for any losses, injuries, or damages from the display or use of this information. This policy is subject to change at anytime.