We can't believe that another year has come to an end, and as we look back on 2018, we're so excited to share our favorite memories with you. We celebrated plenty of company and personal achievements, attended events across the country to connect with clients and youth organizations, announced new community partnerships, and launched exciting new product features, to name a few!
Of course, none of this would be possible without YOU, so we want to say thank you to each and every one of our clients, users, friends, family members, and champions. Your support means the world to us, has helped us shape ePACT into what it is today, and will continue to have a huge impact as ePACT grows.
We hope you enjoy reading our 2018 Year in Review as much as we enjoyed putting it together!
Key ePACT Moments
Every year, we see ePACT used in more countries and communities across the world – ePACT now has users in 135 countries, in addition to every State in the US and every Province and Territory in Canada. It's always amazing to see how far reaching our network is, and to know that we continue to support families globally.
This year we added to our Privacy and Security arsenal with an audit of our SOC II Type 2 compliance by PwC. This is a further step in our ongoing commitment to ensure customer data is kept secure, private, and confidential.
New Clients & Partnerships
ePACT welcomed amazing new clients throughout the year – the YMCA of Metropolitan Denver now uses ePACT to collect critical information for members in their day camps; and both the City of Vancouver (WA) Parks & Recreation Department, and Fair Oaks Recreation & Park District (CA) use ePACT to eliminate the paper forms they've been using for their camp participants and Adaptive Recreation programs, to name a few. In addition, Glenlake Minor Hockey, SouthEnd Minor Hockey, and Coquitlam Minor Hockey all implemented ePACT to help manage key health and safety information for their players.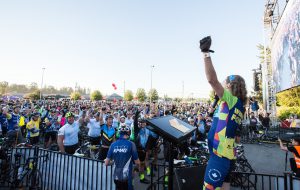 As well as new clients, 2018 saw new partnerships for ePACT. We partnered with Vermont Systems Inc.'s and its RecTrac software, and will be launching our API integration in Q1-2019. For our sports clients, we partnered with RAMP InterActive, and clients of both systems enjoy API integration, making the family registration process seamless each season.
ePACT supported the BC Ride to Conquer Cancer for the third year in a row, and was also honored to expand support to the Alberta Ride to Conquer Cancer. We've also partnered with the YMCA of the North Shore's Corner Stone Program, which is a unique and amazing initiative providing essential daily living support to cancer patients, cancer survivors, and their immediate families.
Finally, we were proud to support the communities of Haida Gwaii on BC's West Coast earlier in the year, following a significant earthquake that impacted the region. ePACT was used to send out emergency alerts helping to evacuate residents from a tsunami warning issued shortly after the earthquake, and supported emergency management teams throughout the evacuation process.
ePACT at Events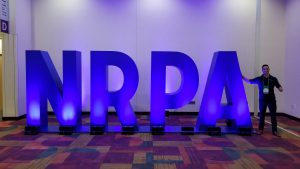 One of our favorite activities throughout the year is attending key events for a chance to connect with our clients face-to-face, and meet new people in the sports and recreation communities.
This year, Matt, Wagner, Michelle, Elora and Alex attended the California Parks & Recreation Show in Long Beach, the National Parks & Recreation Association Conference in Indianapolis, IN, the Texas Recreation & Park Society Institute & Expo in Waco, the BC Recreation & Park Association Symposium in Vancouver, the Washington Recreation & Park Association Annual Conference & Tradeshow in Seattle, and finally, the Florida Recreation & Park Association Conference in Orlando. Alex was also session speaker at the Illinois Parks & Recreation Association Conference in Chicago, presenting on how parks and recreation departments can manage participant information safely and securely online.
In addition, Wagner and Christine headed out to both the Ontario Minor Hockey Association and the BC Hockey AGMs, and we were thrilled to be invited to ACTIVE Network's ACTIVE World Local events in Dallas, Phoenix, and Charlotte, where we hosted a workshop and had a chance to connect with ACTIVE Net users.
Product Developments
2018 was another fantastic year for product development, adding new features based on client feedback and continuing to improve the user experience in ePACT. In addition to ongoing system improvements for functionality, system security, and performance, we launched the following product features this year:
Responsive Design: Families can now use ePACT on all mobile devices, making it easier than ever to access your account on the go – complete forms, update information, and share records with your organizations, right from your smartphone or tablet.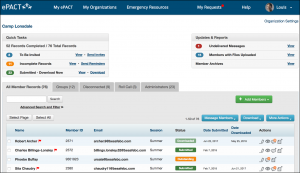 Archiving: Our new archiving feature works in conjunction with any organization's existing ePACT account to archive forms and store them securely in ePACT's cloud-based system, no matter the retention period required.
API Integration with ACTIVE Net: Our partnership with ACTIVE Network took things to the next level with our new API integration, that has created a streamlined experience for families as they register for programs, and receive their ePACT invites to complete critical information the same day.
Auto-Reminders & Reconfirmations: These two features help staff keep participant information up-to-date, while reducing workloads for Administrators. Automated reminders help ensure that participant information is provided in advance of a program, and clients use automated reconfirmations to request that families review their information to make any changes if needed.
Group Administrator One View: For administrators that oversee multiple programs, groups, or teams, the administration dashboard now has a single view where you can see all the members in all of your groups. Administrators can choose to view all members in a single view, or the members in a single group.
We're also working on some exciting new features for 2019 – our new API integration with RecTrac is set for Q1-2019, and Check In/Check Out functionality will be available through the ePACT Admin App later in the year. Stay tuned!
The ePACT Team
Of course, the ePACT Team has its fair share of updates too!
Russell joined our Customer Success Team, bringing his experience in customer service to our clients and users so that they get the most out of ePACT, and also sharing his love of travel with everyone. Chris moved from the QA Team into a Junior Developer role, and both Steve and Ramon earned well-deserved new titles and roles within the development team.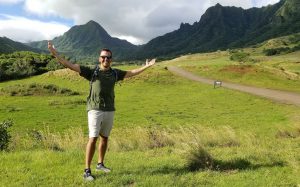 Elora and Michelle got married in March and September. There was lots of travel throughout the year too, with Kirsten and her daughter Emma visiting Ayumi and her daughters in Japan, Cici and Wagner heading back to Brazil to visit family, Wagner and Russell visiting Europe, and Matt and Christine taking beach vacations in Hawaii.
Kirsten was a panel member for the North Vancouver Chamber's "ELEVATE: Women in Business – Leading with Authenticity" event which highlights outstanding female leaders who are making an impact on business in North Vancouver. Christine was a guest speaker at the Raise Collective's WeRAISE Cohort in the Spring, helping to build Canada's community of women investors, and was nominated as one of BC's Most Influential Women. Both Kirsten and Christine attended the BC Tech Summit as part of the Pique Ventures portfolio.
We're all amazed at how much has happened over the last 12 months, and we're excited to see what 2019 has in store for ePACT and the team.
Wishing everyone Happy Holidays and a prosperous New Year!
~ Christine, Kirsten, and the ePACT Team