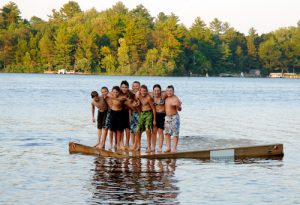 When the camp season comes to an end, and you have celebrated a season full of successful programs, now is the perfect opportunity to evaluate the safety procedures at your camp. Everything is fresh in your mind, as well as your parents and employees.
To make sure you identify all concerns and their corresponding solution, here are three activities to include in a well-rounded safety audit:
Review your incident reports
Incident reports offer a wealth of information across all types of activities. Be sure to identify concerns in individual reports, while also looking for themes across all of the reports. For example, were there several trips and falls in one area of the camp? Or was there a specific injury associated with each activity? These themes will help you uncover safety concerns so you can prevent these same incidents next year. And if you have any follow-up questions, check-in with the staff member who wrote the report to gain a full understanding of the event.
Get feedback
Your campers and their families will be the best judge of your safety. Touch base with a handful of parents who are open to providing feedback on your camp. They'll often observe things that you didn't even think of! And if you send out a survey or questionnaire for parent feedback, consider adding a question or two on the topic. A few potential questions are:
Were you satisfied with the safety procedures at our camp? Why or why not?
Did you have any specific safety concerns?
What safety improvements would you like to see at our camp?
Meet with your staff
Having an in-depth debrief with your staff is incredibly important. You'll want to include every department, as each team will have a unique perspective so that nothing is overlooked. Here are a few questions to discuss with each of your teams for a thorough assessment.
Camp leaders

Were all activities and field trips safe for the campers?
Was there a specific area, activity or field trip that saw more injuries than others?
Was there a specific area, activity or field trip where safety was exceptional?
Did your campers have any concerns?
Did our emergency response plans cover everything you needed, or were there gaps?
Did you have all the safety equipment you needed (e.g. enough life jackets, flashlights, first-aid kits)

Kitchen staff

Did you have adequate information to prepare for allergies and specific dietary restrictions?
Is the allergen-free cooking area suitable for your needs?
Were there any incidents that had to do with food or food preparation?
Is there a rise in a specific medical condition or allergy that must be incorporated into plans for next year?
Do you feel safe with the existing kitchen equipment?

Medical team

Did you have all the supplies you needed?
Was the medical information you had for campers adequate? Was it easily accessible?
Was there a specific injury or illness that was common this year?
Could you easily communicate with families if you needed a more detailed health history for a camper, or required the parent to pick up the child?

Facilities and operations

Were there any areas that were a safety concern this year? (e.g. falling trees in a forest, a deteriorating dock)
Are there any areas that will require repair work to be safe and operable next year?
Were there any facilities missing safety features this year (e.g. a hand rail on stairs, perimeter fence)?
What facility improvements enhanced safety this year?

For all your staff

What aspects of safety were particularly well done?
What safety improvements would you like to see for next year?
What is your number one safety concern – for both staff members and the campers?
Are there any areas you'd like to receive safety training in?
We often hear the saying 'safety first' and we hope that these three audit activities will help you achieve just that. If you have any other camp safety questions, you can always find us on Twitter and Facebook. Happy auditing!
Terms and Conditions
All content provided on this blog is for informational purposes only. The owner of this blog makes no representations as to the accuracy or completeness of any information on this site or found by following any link on this site. The owner will not be liable for any errors or omissions in this information nor for the availability of this information. The owner will not be liable for any losses, injuries, or damages from the display or use of this information.
This policy is subject to change at anytime.