Emergencies come in many forms, and while it can be tough to predict what's going to happen and when, we can take steps to prepare ourselves ahead of time so that we're in a better position to respond and recover. At the very least, every home should have an emergency kit with enough supplies for each household member to survive for 72-hours without assistance, as well as an emergency plan that includes meeting places, evacuation routes, and communication plans. We've gathered some of the more common emergencies/disasters that you can prepare for.
Earthquakes & Tsunamis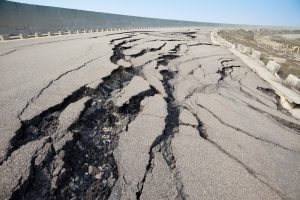 ePACT is based in the Pacific Northwest so earthquakes are a reality for this region, and we take our earthquake preparedness seriously! As with any natural disaster, earthquakes are impossible to predict – either when they'll happen or how severe they'll be, so here are some general preparedness tips:
Practice your "Drop, Cover, and Hold On" – October is ShakeOut month and a great way to get some extra practice in with your family and coworkers.
Familiarize yourself with earthquake emergency plans at work and your children's schools, and discuss with your family so that everyone knows what to do if one should occur. Discussions ahead of time can reduce the stress and fear surrounding natural disasters, especially for younger children.
Know where to take shelter in your home, school, or place of work. Don't use doorways for protection in an earthquake – they're no stronger than any other part of a structure so get under a sturdy piece of furniture, like a table, and hold on.
Make sure you're set up for emergency alerts. Both the Canadian Red Cross and American Red Cross have dedicated apps, NOAA provides weather alerts across the country, and there are many regional systems too.
Create a plan and emergency kit for your pets – they'll need supplies and a place to stay if you should evacuate your home.
Prepare your home by securing book cases to the wall with furniture straps, moving pictures or wall hangings away from areas that people sleep or sit (and securing them to the walls with putty), and storing heavy or breakable items on lower shelves throughout the house. You should also know where and how to turn off gas valves too!
In coastal earthquake regions, it's also important to prepare for tsunamis, which often follow soon after. Even if you don't live in a coastal region, it's always good to know generally how to prepare and respond to tsunamis in case you relocate or are on vacation during a disaster:
Set up emergency alerts, and know the difference between a tsunami watch, advisory, and warning
Create an evacuation plan and review it with everyone that lives in your house. Be sure to have evacuation routes from any other place you are in regularly, like schools, workplaces, or holiday homes. And remember to practice those routes, so you know where you're going no matter the weather or time of day.
Choose a meeting point on higher ground, and make sure you and your family all know how to reach it in the event of an evacuation. You should have a couple of different options in case you can't get access to one.
If you have animals that spend time outside, such as livestock, or there's a chance that pets will run in an emergency, make sure that fencing around your property allows them to get to higher ground in your absence.
Make sure your home insurance covers flooding from a tsunami, and if not, add it to your policy.
For more earthquake and tsunami preparedness tips, visit ShakeOut.
Home Fires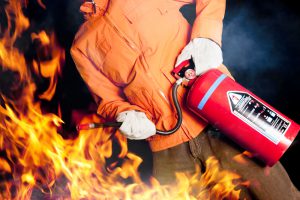 In 2016, there were more than 1.3 million fires reported in the United States, costing countless lives and causing many injuries. Home fires often start by accident, so it's important to practice home fire safety, and, in the event of a fire, be prepared to get to safety as quickly as possible. Here are some ways you can prepare:
Install smoke alarms on every level of your home, inside bedrooms and outside sleeping areas. Test smoke alarms regularly, replace batteries once a year (we like to do so with the time changes each season), and replace the entire unit after ten years.
Purchase fire extinguishers and store them close to, or in, areas that are at a higher risk of fire, like your fireplace or kitchen.
Put together a home fire plan, and discuss it regularly with your family. Always have two ways out of every room in your home, and make a point to practice your plan twice a year so that everyone is familiar with it.
Make copies of your important documents and keep them in a safety deposit box, or even with a friend or relative. Keep the originals in a fire resistant safe.
Practice home fire safety – don't leave open flames unattended, keep flammable items away from open flames and stove tops, use timers when cooking, and ensure that power cords are in good shape before using them.
Severe Weather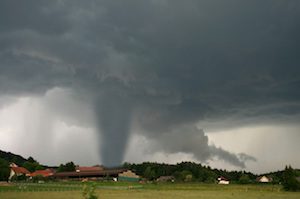 Depending on where you live in the country, your region might be at risk for a variety of severe weather events, including hurricanes, tornadoes, winter storms, or spring flooding. While much of your general emergency preparedness efforts are great here, there are a few additional things to consider for each weather system:
Purchase a battery-powered or hand-crank radio for your emergency kit so you can stay up to date with weather alerts and information from authorities.
For storm weather, secure or store all outside furniture, tools, and toys to prevent them from being picked up by winds and causing damage to homes or injuring neighbours.
Make sure you have flood insurance for your home. If you're in the United States, you can participate in the National Flood Insurance Program. Take pictures on a phone or video your home so you have a record of its contents if you ever need to make a claim.
Identify a safe place in your home where household members and pets can gather during a tornado – usually a basement, storm cellar, or simply an interior room on the ground floor with no windows.
Clear snow from around your home and leaves/debris from gutters to avoid flooding after snow melt or a rain storm. Cut back diseased or damaged tree limbs and remove any loose items in your yard, like firewood, as they can be picked up by strong winds.
Power Outages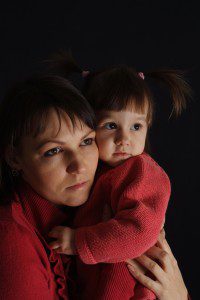 These can occur for any reason, and due to their sudden nature (and our reliance on power), can be extremely frustrating. Everything from keeping food fresh to communicating with others relies on electricity, so in the case of power outages that can last anywhere from a few minutes to weeks, make sure you're prepared with the following tips:
Make sure your emergency kit has enough food and water to last each member of your household for at least 72 hours.
Store water in your freezer so that food can stay cold for longer if the power goes out, and you also have a source of emergency water.
Consider purchasing a generator for power in a black out – this is especially important if you have someone in your home that relies on medical equipment. Make sure it's rated for the power you'll need, and that you know how to use it (and don't forget to have gas on hand to power it!).
In winter months, staying warm will be a top priority in a power outage, so keep everyone in the same room(s) of the house and close doors to rooms that aren't being used, to trap any heat already in the house. If you're using an alternate source for heat, like a fireplace, make sure there's plenty of ventilation to avoid carbon monoxide buildup, and never use a generator inside your home.
Here are some additional tips for What To Do In A Power Outage.
Wildfires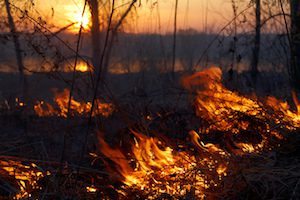 Unfortunately, wildfires are a reality throughout the summer months in some regions, and up to 90% are caused by humans. Due to their unpredictable, fast-moving nature, it's important for those who live, work, and play in affected areas to know how to prepare and respond extremely quickly in the event of a wildfire:
Create "Grab and Go" versions of your emergency kit, or store your home emergency kit in backpacks or other portable containers so that you can pick them up and go as quickly as possible. You can also store items in your car so that you're ready to evacuate at a moment's notice.
Keep a clear fire zone of 10 feet around your home and other structures by keeping trees and hedges trimmed back, and by removing damaged or hanging branches.
Keep up to 100 feet of garden hose with an attached nozzle or sprayer connected and ready for use, and consider adding additional outlets at least 50 feet from your home that firefighters might be able to use (in the absence of city fire hydrants).
Designate household items as firefighting tools to use before fire fighters arrive, such as a rake, axe, hand saw, and bucket and shovel. Keep these in a space that's easy to access and is less likely to be impacted by fire, if you must use them.
Arrange for a place to stay if you evacuate your home. If you have to stay in a shelter, many aren't pet-friendly, so make sure your furry family members have somewhere safe to go until you can be reunited, or that you head to a shelter that accepts pets.
Know the difference between an evacuation alert and an evacuation order/notice, and use local alerts to stay up-to-date on information and requests from authorities.
For more ways to prepare your home before, during, and after wildfires, visit Ready.gov.
There are many emergencies that we can prepare for, and it's most important for you to know the risks of the areas you live, work, and go to school in so that you can focus your preparedness efforts on those first. For general emergency preparedness tips, check out more articles on our blog, or visit:
Terms and Conditions
All content provided on this blog is for informational purposes only. The owner of this blog makes no representations as to the accuracy or completeness of any information on this site or found by following any link on this site. The owner will not be liable for any errors or omissions in this information nor for the availability of this information. The owner will not be liable for any losses, injuries, or damages from the display or use of this information. This policy is subject to change at any time.